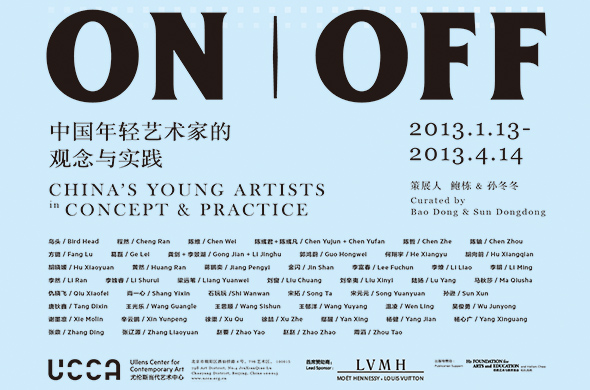 Curated by Bao Dong and Sun Dongdong, ON | OFF is an effort to effectively document a new generation of Chinese artists born after 1975 who have "grown up in a society and culture beset by binaries, constantly toggling between extremes." The title ON | OFF, which comes from the graphical interface of a common VPN (virtual private network) software used to scale China's Internet firewall, represents this binary condition at its simplest and most direct. It will be on view at UCCA, Beijing until April 14, 2013.
The exhibition is rooted in a series of such tensions that intensified in 1999, just as the Internet was becoming implicated into everyday life. Since then, it is precisely this generation of artists that has surfaced and begun to attract attention, as Chinese contemporary art has moved away from the underground scene of the 1990s and a new commercial market and institutional infrastructure have come to replace it. Today's most notable young artists are the recipients of formal art educations, and many are gradually fitting into a rising gallery system. They exhibit a strong tendency toward self-organization and collective practice, yet represent a wider diversity of individual subjectivities and styles than ever before seen in China. They actively participate in the emergence of new art institutions even as they question and mediate these developments. Unlike previous generations, they stay informed of international developments in real time, even as they continue to run up against a distinct and specific set of constraints and challenges.
ON | OFF is above all a research project, drawing on preparatory visits to more than 200 artists in cities including Shanghai, Hangzhou, Guangzhou, Chengdu, Chongqing, Wuhan, and Shenyang. Accompanied by a wide range of publications and programs, the exhibition aims to articulate a generational sensibility by highlighting individual positions. "Since its founding in 2007, the Ullens Center for Contemporary Art has been a platform for presenting the freshest artistic voices in China, and for placing them into the twin contexts of Chinese art history and the international conversation around contemporary art," said UCCA director Philip Tinari. "We are extremely excited to mount an exhibition that will showcase the wide range and high caliber of work being made in China today."
PARTICIPATING ARTISTS
Birdhead, Chen Wei, Chen Yujun + Chen Yufan, Chen Zhe, Chen Zhou, Cheng Ran, Fang Lu, Ge Lei, Gong Jian + Li Jinghu, Guo Hongwei, He Xiangyu, Hu Xiangqian, Hu Xiaoyuan, Huang Ran, Jiang Pengyi, Jin Shan, Lee Fuchun, Li Liao, Li Ming, Li Ran, Li Shurui, Liang Yuanwei, Liu Chuang, Liu Xinyi, Lu Yang, Ma Qiusha, Qiu Xiaofei, Shang Yixin, Shi Wanwan, Song Ta, Song Yuanyuan, Sun Xun, Tang Dixin, Wang Guangle, Wang Sishun, Wang Yuyang, Wen Ling, Wu Junyong, Xie Molin, Xin Yunpeng, Xu Qu, Xu Zhe, Yan Xing, Yang Jian, Yang Xinguang, Zhang Ding, Zhang Liaoyuan, Zhao Yao, Zhao Zhao, Zhou Tao.
CURATORS
Bao Dong (b. 1979, Anhui province) is an art critic and independent curator. He graduated from the Sichuan Fine Arts Academy in 2006 with an M.A. in Art History and has curated exhibitions for a wide range of art organizations since 2005. In contributing essays to the artistic dialogue and other forms of involvement, Bao has established himself as a leading curator and critic of work by the "new generation."
Sun Dongdong(b. 1977, Nanjing) is senior editor at LEAP magazine, where he has worked since the magazine's founding in 2010. He received his M.F.A. from the Nanjing Academy of Art in 2005. Since 2001, Sun has been involved with contemporary art exhibitions, worked as a critic, and curated shows at the Nanjing Sifang Contemporary Art Museum and the Iberia Center of Contemporary Art in Beijing.
Related report: UCCA opens its 2013 program with ON | OFF: China's Young Artists in Concept and Practice on January 13.
Courtesy of the artists and The Ullens Center for Contemporary Art, for further information please visit ucca.org.cn.
Related posts: