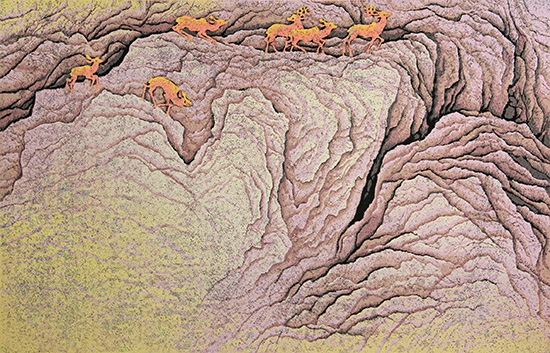 Sponsored by the Department of Art of the Ministry of Culture, Department of Propaganda of the Party Committee of Xinjiang Uygur Autonomous Region, Department of Culture of the Autonomous Region, "On the Plateau – Art Works Exhibition of Xinjiang Fine Art Academy" is an important propaganda exhibition project of Xinjiang culture of 2013, showcasing more than 130 works (including Chinese painting, oil painting, prints) by the selected painters of Xinjiang Fine Art Academy and special invited painters, collectively reflecting the magnificent natural scenery of Xinjiang, life of ethnic groups and the spirit of the time of Xinjiang, diverse developments of current art, offering an opportunity to artists to explore and experience artistic contexts in the evolution of cultural communication and extension.
Sketching is an approach which is the most accessible to the essence of humanities creation. When artists develop the subjects of Xinjiang art, they use an unique artistic perspective to interpret the multi dimensional development of Xinjiang, ethnic solidarity and social harmony, in the process of social development. On the magic Pamirs, to appreciate the roof of the world, to listen to mysterious legends of the son of sun, to feel the spirit of the Tajik people which is transmitted by the eagle flutes and eagle dances, to experience the unique charm of the plateau culture… this is the complex impulse of the painters who enter the plateau.
About the exhibition
Duration: February 28 – March 14, 2014
Venue: Hall 1, 2, 3, 4 of the Guangdong Museum of Art
Courtesy of the artists and Xinjiang Fine Art Academy, translated by Chen Peihua and edited by Sue/CAFA ART INFO.
Related posts: