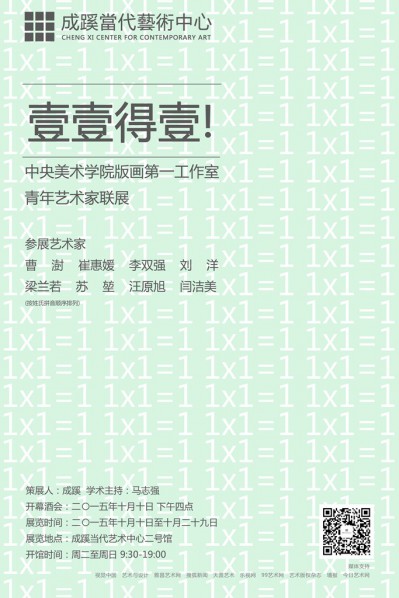 The world is composed of numbers. People like to suggest to themselves a particular number at certain times and in specific venues, such as: "my lucky number is one!"
The number "one" in Chinese philosophy emphasizes the concepts of "summing up" and "concluding", in other words it emphasizes the whole and also means harmony. The original intention of this exhibition, there are altogether eight young artists from the First Studio of CAFA Printmaking School, is that they want to piece out their easel paintings with the appearance of a whole space. They pursue the exhibiting effect of "one" installation, rather than emphasizing the differences from a personal perspective. This "one" originates from their similar experiences in time and space. Lines connect points, and lines are extended to surfaces, which then are turned into a multi-dimensional body, and this body of complex diversity presents a non-simple style and pattern, which is consistent with the possibility of an extension of thought and is praised highly by the Printmaking School of the Central Academy of Fine Arts.
There is another reason for choosing this way of expression, since the worlds they pay attention to are quite different! This is the "one" that is respectively in their hearts, the summative total of various regions, experiences and feelings, among which there is a wayward "one", a heavy "one", a humourous "one" as well as mature and immature "one", even with "one" half of a master and so on. But in general, "Once one is one" does not mean a simple addition, not the accumulated and superimposed one by one, instead it is the sufficiently mixed and chemical reaction through one by one, therefore it is an exhibition that highlights the similarities instead of cutting down on individuality.
Of course, the "one" is just a start, there will be two, three, four and so on…We hope this "One" will become the starting point and signature for of young artists' growth. Congratulations on this exhibition and we wish it a great success!
Text by Ma Zhiqiang
October 2nd, Wangjing
About the exhibition
Curator: Chen Xi
Academic Chair: Ma Zhiqiang
Artists: Su Kun, Li Shuangqiang, Cao Shu, Liu Yang, Liang Lanruo, Wang Yuanxu, Yan Jiemei
Opening: October 10, 2015, 4:00PM
Duration: October 10—October 29, 2015
Venue: Gallery 2, Cheng Xi Contemporary Art Center
Courtesy of the artists and Chen Xi Contemporary Art Center, translated and edited by Sue/CAFA ART INFO

Related posts: