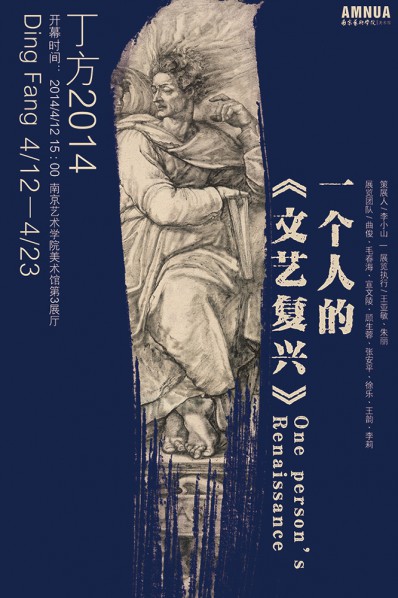 This exhibition showcases the works which were recently created by the artist Ding Fang, focusing on 150 new works based on the "Renaissance" series. The series of "Twelve Apostles", "Twelve Prophets", "Battle of Anglia", "Battle of Casina", whether in the form of medium, quoted content, or in the inner spiritual heritage of the artist, revealing a series of rich relationships between the vision and the spirit, aesthetic and noble, laborious and performance, individual and contemporary, changes and heritage, turning to a new round, the Sisyphean historical stage of his individual creation.
"Renaissance" series, the individual background of creation showcases the above thinking, and will also lead to thinking of a more macro issue on contemporary. In coordination with the exhibition it launches a general discussion themed on "'Renaissance', the Transformation of Contemporary: from an Artistic Perspective", inviting experts and scholars at home and abroad to attend, forming a keynote project together with the exhibition, to discuss the "artistic project" during the contemporary social transformation.
Preface
By Li Xiaoshan
He who knows Ding Fang will say that he is a typical aesthetic monk, treating himself extremely stringently, and even almost masochistically; he is also a Hemingway-style tough guy –in body and soul he is full of angular muscles. His life is entangled with the burden and belief, which is the maximum force to move and encourage himself.
In the current political, cultural context, Ding Fang's way is under pressure from various aspects, and his constructive thoughts both conflicts with the mainstream discourse, and is incongruous with the present ruined status quo. Ding Fang's works can be used as a test, or said to be a boundary, to discover how far it is between a constantly moving forward man and the reality in the face of him.
The Renaissance was a great turning point in human history, shifting from god to people with orientation, which actually went towards civilization from barbarism. It is summarized into two aspects: on the one hand it is the value of enlightenment, on the other hand, it is the universal value – Renaissance is beyond geography and time and space, to become the common spiritual wealth of the human beings. Ding Fang's work reflects the two rainbows: the overlapping of humanistic spirit in the Renaissance and the immortal divinity, indisputably constructing the vault for his thoughts.
Ding Fang gained a dazzling transcript in the creation of oil painting, while he presently uses ink, with the use of a comprehensive approach, to cross a new height both with a subtle expression in painting and a visual tension.
About the exhibition
Exhibition Time: April 12—April 23, 2014
Venue: Hall 3 of the AMNUA
Text and Photo Courtesy of AMNUA, translated by Chen Peihua and edited by Sue/CAFA ART INFO.
Related posts: