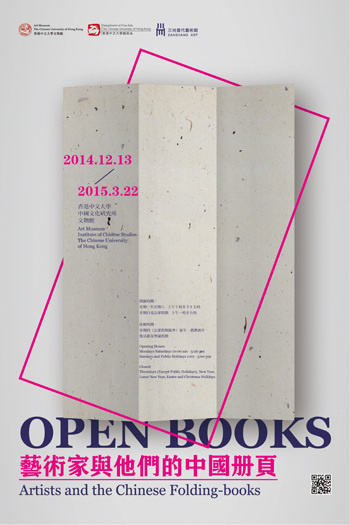 In China, the folding book has been a very common choice of display for painting and calligraphy, especially in literati culture where the book has occupied pride of place for centuries.
Open Books is an international travelling exhibition featuring Chinese folding books. It explores the possibilities of a cross-cultural investigation of Chinese-style bound volumes made by visual artists from the West and China. The exhibition was initially launched in 2012 at the National Library of Wales and also featured at the Sanshang Museum of Contemporary Art in Hangzhou, Logan Regional Gallery in Queensland. It comes to the Art Museum of the Chinese University of Hong Kong in December and seeks to show together the diversified works by artists from the United Kingdom, alongside Chinese and Hong Kong artists.
Co-organized by Sanshang Contemporary Art Museum, Department of Fine Arts and Art Museum, The Chinese University of Hong Kong.
About The Chinese University of Hong Kong
The Art Museum, The Chinese University of Hong Kong serves the community by collecting, preserving, researching and exhibiting a wide range of artifacts illuminating the rich arts, humanities, and cultural heritage of ancient and pre-modern China. The Art Museum promotes the excellence of both its permanent collections and loan collections of Chinese art and their use for scholarly endeavours and outreach efforts. As auniversity teaching museum, it offers in-depth practice of museology and teaching of art history and heritage through direct and sustained access to original Chinese works of art by collaborating with the Department of Fine Arts. With different University faculties it advocates interdisciplinary approaches to the social, cultural, technologicaland historical context of Chinese art. Founded in 1971, the Art Museum has been taking an active role in achieving the objectives of the University in promoting Chinese culture and heritage,and facilitating academic exchange between China and the West, as well as enriching the cultural lives and spiritual well-being of society.
About the exhibition
Duration: 13 Dec 2014 – 22 Mar 2015
Venue: Gallery II, IV Art Museum, Institute of Chinese Studies, CUHK
Museum Opening Hours: 10:00-17:00 Mon-Sat; 13:00-17:00 Sundays and Public Holidays
(*Closed: Thursday, New Year, Lunar New Year, Easter and Christmas Holidays)
Tel: 852-39437416
Add: The Chinese University of Hong Kong, Shatin, N.T. Hong Kong
Courtesy of the artists and the Art Museum of The Chinese University of Hong Kong, for further information please visit www.cuhk.edu.hk.
Related posts: