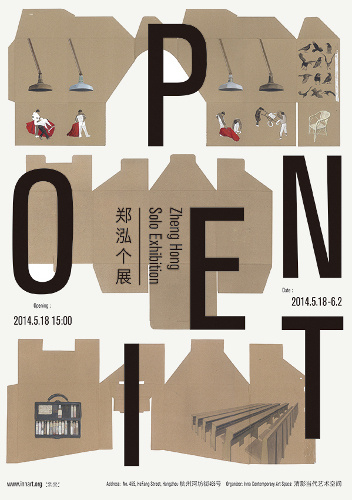 OPEN IT
This series of works began with opening a package of goods from ordinary carton. Due to the particular fascination of the pure yet exquisite sense of the color and structural design of kraft carton, I collected and opened more boxes, Therefore, the interesting thing is that I opened a visual experience which I have never had, and what inspired my impulses to do something. "Open" is also the opening of real life, in a new way, from a new angle of trying to open the internal structure and texture of the experience of real life.
About Zheng Hong
B.A. in Oil Painting, China Academy of Fine Arts, 1996
M.A. in New Media Arts, China Academy of Fine Arts, 2008
Visiting scholar in University of Leeds UK, 2013
About the exhibition
Duration: 18 May – 2 June 2014
Venue: Inna Contemporary Art Space
Opening Reception: 18 May 2014 Sun 15:00
Courtesy of the artist and Inna Contemporary Art Space, for further information please visit www.innart.org.
Related posts: