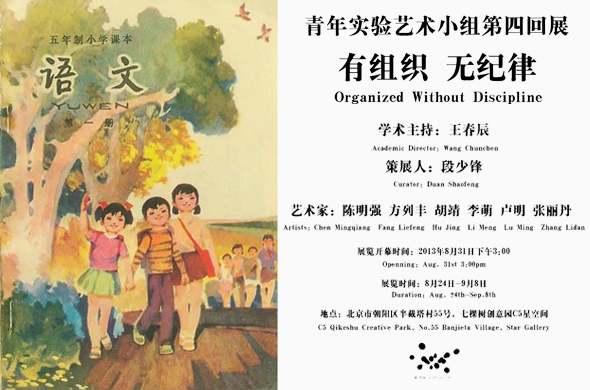 "Organized Without Discipline" – YCEA Group Exhibition in Its Fourth Round is held at Star Gallery. Starting from the initial exhibition "We", followed by "Look Back", to "Organized Without Discipline" this year, YCEA's exhibitions represent the growth and spiritual experiences of the artists, in the past four years, they were close to the academy, while walking in the forefront of artistic practice, revealing their pioneering spirits to endure great hardships during the developing work. They are not only pioneers but also extremely hardworking, when Chen Mingqiang graduated in 2013, he created "Love Armor", he features the two new sets of installation, Zhang Lidan brings two sets of works, while the other members including Fang Liefeng, Hu Jing, Lu Ming, Li Meng showcase their new works, all of them represent their thinking over the year. It has needed an hot spirit to adhere to the creation.
The reason why this exhibition is named "Organized Without Discipline", is a true reflection of the status of their artistic lives together. At the same time, giving consideration to the relationship between personal life and the ideal, between the pressure from reality and artistic persistence, the group would inevitably choose a more flexible combing system, for coordination and maintenance of the developments of the group and the individual. How to find a point of balance between life and art ideal, YCEA provides us with some practical experiences, no matter where the group will go forward to in the future, they are insistent, for art, the youth in this era are capable of doing nothing but insistence.
The exhibition forms of YCEA cover easel painting, video, installation, etc., in addition to an important link of cooperation creation by the group members, a solitaire creation which is entitled "One Square Meter", makes the exhibition different from the past, we welcome visits and criticism.
About the exhibition
Academic Director: Wang Chunchen
Curator: Duan Shaofeng
Artists: Chen Mingqiang, Fang Liefeng, Hu Jing, Li Meng, Lu Ming( collaboration with Zhao Bo ), Zhang Lidan
Artists participating in the link of solitaire creation: Chen Mingqiang, Fang Liefeng, Hu Jing, Li Meng, Lu Ming, Zhang Lidan, Yao Ran, Zhou Xiao
Opening: 15:00 pm, August 31st, 2013
Duration: August 24th – September 8th, 2013
Venue: Star Gallery, C5 Qikeshu Creative Park, No.55 Banjieta Village, Chaoyang District, Beijing, China
Translated by Chen Peihua and edited by Sue/CAFA ART INFO
Related posts: