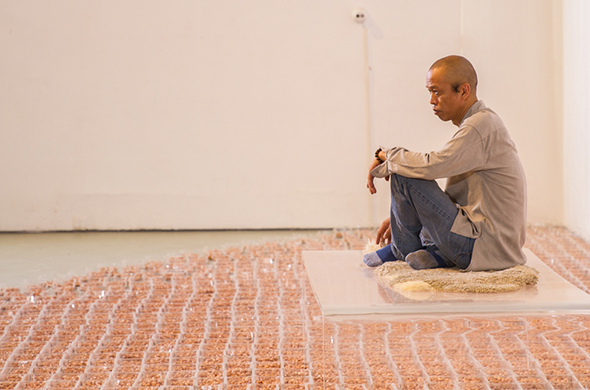 It is with a social progress that performance art can be on display in the public art museum today. We can be optimistic about art and have a long-term vision.

–He Yunchang
On July 8, 2016, He Yunchang's solo exhibition A CHANG opened in the No.1 Building of Today Art Museum. This exhibition is organized by Today Art Museum, and is the first academic exhibition of such a large and comprehensive scale and documentation in China. It displays He's two decades of creative process with nearly 20 artworks, including performance art, photography, installation and so on. Meanwhile, there are supporting documentary material and videos which record the background stories of the artworks in the exhibition. It is an all-encompassing presentation of He's artistic framework and theoretical patterns during recent years.
For Today Art Museum, A CHANG is an important exhibition of 2016 and an important part in exploring proactive contemporary art. The exhibition follows the clues of He's creative process, real situations and transformation of the artist to present new discussions. Through various narrative methods, it illustrates the richness of his notional logic and vastness of his vision of art. The arrangement of the exhibition reflects a metaphorical structure of He's art: over the three floors of the No.1 hall of Today Art Museum which corresponds with three periods throughout He's artistic career as follows: Origin, Surge and Echo.
After the opening ceremony, He Yunchang presents a new performance art entitled "Groundnut" on the second floor of No.1 Building of Today Art Museum. On the site, He Yunchang is sitting or standing on the transparent desk placed on the top of many peanuts, the artist once again presents the human thought, ideas on society, natural environment and the living conditions as well as other issues. The performance started at 17:00 on July 8 going through to 17:00 on July 11.
He Yunchang and his "A Chang" Persistence
Since 1985, performance art has experienced several stages in China, from the first "rebellious period", to the "awkward period", "mild period" and gradually into the recent "hype period". Today, no one could deny the significance of performance art in pushing the boundaries of Chinese contemporary art. Rose Lee Goldberg has said that: "Performance art is a direct way to call on the people, to astonish them and further encourage them to retrospect their view of art and the relationship between art and culture." Unfortunately, the directness of this art form – its emphasis on live and in-person events – is now being challenged and limited by time and space. Consumerism and the crowded sense in the art market have capitalized on its internal abstract quality and rendered it more like entertainment. The attractive marks of "Nudity, violence and blood" breed ignoramuses in the name of art. It is in this circumstance that He and his faith in A CHANG are regarded as a serious salvation for contemporary performance art.
He Yunchang is called "A Chang" by all his close friends, and his perseverance during the past 20 years has given him the nickname "A Chang" as a symbolic nail knocked in the leading position of contemporary art. Since his first artwork "the Failed Project" in 1994, He Yunchang has produced one new work every year. In 1999, after the production of "the Golden Sunshine" and "Dialogue with Water", he entered his heyday of artistic creation. After 2003, his works "Keeping Promise" and "The Rock Tours Around Great Britain" were a big success and "A Chang" was recognized as a special artistic language, which expresses perseverance, futility and cruelty through art. He's artworks go deep into our ideological notions with astonishing effect, while creating a conversation between life and art.
After these 20 years, He Yunchang established his own system of values through incessant reflections and adjustments. His previous manner of performance gradually developed into a mild one. "A Chang" is no longer a label of the artist, but a spiritual symbol in art: on the one hand, he stands on the local culture, probes into China's contemporary social issues and interprets them in his work; on the other hand, "A Chang" has become a symbol of transformation in the history of Chinese performance art and is continually influencing the trends of contemporary art and the younger generation of artists.
Exhibition Sections of A CHANG
The exhibition is divided into three parts: Origin, Surge and Echo. "Origin" starts from two "Dragon's Teeth", which are filled with firewood chopped by the artist over the last 10 years. The trivial matters of little consequence are united and evolve into a gigantic string of power. It reflects the creative state of the artist's past ten years and demonstrates the resilience and strength in the will of the Chinese people. This section also tries to sketch an overall image of He by incorporating other works on his personal struggles, faith and family.
"Surge" presents all the pieces of performance art that were complete have a close relationship with nature, the plants and the stones. It is seemingly an individual wrestling with the absurdity of the whole world, but indeed, it is really the most caring discussion of man and nature.
"Echo" presents something very powerful, something associated with the mode of existence, and expands from its conflicts: the conflict between the individual and time, between the spiritual and the physical, between the trivial and the tremendous. Meanwhile, there are also original documents and manuscripts on display for the public for the first time.
Through this exhibition, the visitors can take a closer look into the growth of an artist, who is dedicated to reflect on the development of our society and performance art in China. Today Art Museum hopes that this exhibition will change the previous public misunderstanding of contemporary performance art. Today Art Museum wants to take this exhibition as a new chance, to sort the traces of Chinese contemporary art out again, to re-collect and record its cultural status and artistic changes to further support the research and communication of Chinese performance art.
About the Artist
Born in Yunnan in 1967, He Yunchang graduated from the Department of Oil Painting at Yunnan Arts University, with a bachelor's degree, he resigned and became a professional artist in 1993, he now lives and works in Beijing.
Selected Solo Exhibitions:
2014 Worldly Fate – He Yunchang, Beijing White Box Museum of Art, China
2013 Nirvana–Flesh, National Art Museum of Belgium, Belgium
2012 "All Bodies", Feizi Gallery, Brussels, Belgium
2010 "Passenger Not Leaving Any Shadow", Empty Valley Gallery, Hangzhou, China
2009 "Wings of Performance – He Yunchang", Galerie Urs Meile, Beijing-Lucerne, Beijing, China
2008 "Scale of the Existence – Solo Exhibition of He Yunchang", National Gallery of Indonesia, Indonesia
2007 "The Rock Tours Around Great Britain – Solo Exhibition of He Yunchang", Chambers Fine Art, New York, United States
2006 "Solo Exhibition of He Yunchang", City of Aix, Spese Gallery, Liverpool, U.K.
2004 "A Chang's Persistence", Tokyo Gallery, Beijing, China
Selected Group Exhibitions
2014 "Yokohama Triennale 2014", Yokohama, Japan
2013 "Transformation", Pavilion of China, The 55th Venice Biennial, Italy
2012 "Guangzhou Triennial", Guangzhou Art Museum, Guangdong Province, China
2011 "Chengdu Biennale: Rirong-changxing", Chengdu, China
2010 "Reshaping History", China National Convention Center, Beijing, China
2009 "The 10th Fukuoka Asian Art Triennale 2009", Fukuoka Asian Art Museum, Fukuoka, Japan
2005 "The Wall" – Reshaping Contemporary Chinese Art, Millennium Art Museum of Beijing, China; Albright-Knox Art Gallery, America
2003 "Sharjah International Art Biennial", the United Arab Emirates
2002 "Pusan Biennale", Pusan, South Korea
2000 "Fuck off", Eastlink Gallery, Shanghai, China
Photo by Hu Sicheng, Text by Yu Ya, translated by Chen Peihua and edited by Sue/CAFA ART INFO
Related posts: