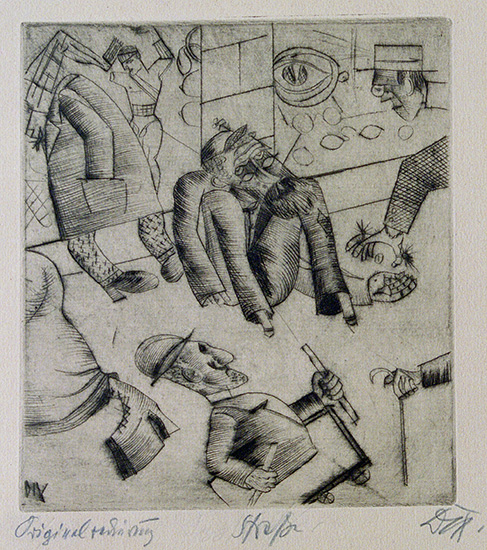 After touring to Nanjing, Shanghai, Chongqing and Chengdu, the ifa (Institute for Foreign Cultural Relations) exhibition Otto Dix. Social Criticism Prints: 1920 – 1924 "The War". Etchings: 1924″ opens at the Guangdong Museum of Art. The exhibition highlights 86 works by the German artist Otto Dix (1891-1969), who is known as protagonist of the "New Realism".
As suggested by the title, the exhibition reminds visitors of the physical and spiritual destructiveness of war. His direct confrontation with the war at the frontlines left a significant impact on Dix' work in his entire life. More than 600 drawings from the years 1914 to 1918 were done at various theatres of war in Belgium, France and Russia, in the course of his military service. These protocols of war, created on the spot and of high artistic value, together with his own memories of the horrors of World War I, formed the basis of a later grandiose serial work entitled "The War", published in 1924 by Karl Nierendorf in Berlin.
About the exhibition
Dates: 12 Aug – 1 Sep 2013
Venue: Guangdong Museum of Art
Opening Reception: 12 Aug 2013 Mon 16:00
Art Talk: Zeitgeist and Reflection in Art. Otto Dix and the 1920s in Germany
Date: 11 Aug 2013 Sun 15:00
Venue: Multi-Function Room, Guangdong Museum of Art
Speaker: Mr Werner Meyer, Director of Kunsthalle, Goeppingen, Germany
Mr Meyer illustrates with selected examples of Otto Dix' work in outlining the artistic development of Dix through the different periods of his life. In this way, not only the strong expression of the painting style is made accessible, but also the content and the meaning of single pieces of Otto Dix' etching works.
Courtesy of Guangdong Museum of Art, for further information please visit www.gdmoa.org.
Related posts: