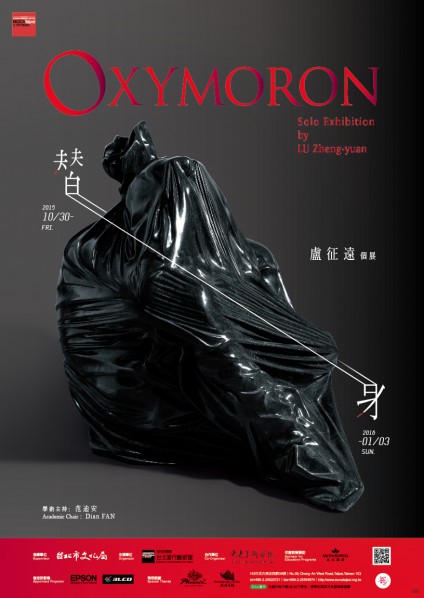 Lu's art is both realistic and abstract, incorporating standard aesthetics and improvisational elements, time-specific style and distinctive personal expressions, while also exploring art history's perpetually debated issues such as art and non-art. On the other hand, he also seeks to use oxymoronic conflicts between material and form, visuality and psychology to engage the audience in reflective thoughts about the interconnected relationships between objective impressions and subjective cognitions, leading to individualized ways of using the fragmented signs and symbols presented to construct specific texts or narrative logics. The process allows art to stray away from traditions and conventions that dictate how art making should be approached.
In Oxymoron: Solo Exhibition by Lu Zhengyuan presented at MOCA, Taipei, the artist seeks to invite the audience to embark on an "unexpected" journey. The exhibition is transformed into a diverse, fragmented, and highly puzzling site open to be experienced, encouraging the audience to assertively filter through or selectively gather what's on site, turning the exhibition into a way to catch a glimpse of the artist's developmental course and conceptual context. Those seeing the exhibition are also prompted to contemplate and reflect on their own lives. Perceptual elements and spatial installations are place throughout the exhibition site, converting everyday objects into something quite foreign yet also vaguely familiar, with a peculiar yet also humorous way of expressing the notion of "existence" presented. Through the conversion process, existing "values" are conceptually subverted by the artist, with the oxymoronic relationship between art making's repetitive sense of the self and constant innovation deeply examined.
In addition to examining Lu's focus on art's contingency and inevitability, exploring the philosophical outlook and dialectical logic behind this conceptual artist of the new generation, it is also intended for the ambiguous line deliberately created by the artist in this exhibition to challenge the viewers' contrasting visual perceptions and inner feelings.
About the artist
Lu Zhengyuan was born in Dalian of Liaoning Province, China in 1982. He graduated from and now teaches at the Central Academy of Fine Arts, Beijing, China, and currently lives and works in Beijing. He works with a wide range of genres, such as sculpture, installation, painting, performance, and interactive multimedia, and has participated in several international exhibitions, including Shanghai Biennale, Shenzhen Sculpture Biennale, Gwangju Biennale in South Korea, Chinese Contemporary Sculpture Documenta, with exhibitions presented at the National Art Museum of China, China Central Academy of Fine Arts Museum, Shanghai Long Museum, Today Art Museum, Songzhuang Art Center, Museum of the Orient in Portugal, Iberia Center for Contemporary Art, C5 Art, Central Institute of Fine Arts in Beijing, Central Academy of Fine Arts Sculpture Center, Times Art Museum, White Rabbit Gallery in Australia, Centro Cultural Providencia in Chile, and Bonn Museum of Modern Art in Germany, and also solo exhibitions held at Ullens Center for Contemporary Art in Beijing, and Phoenix Art Palace.
About the exhibition
Curator: Fan Di'an
Co-ordinator: Zhao Qingdong
Date: 2015/10/30 Fri. -2016/01/03 Sun.
Venue: MOCA Taipei 2F
Courtesy of the artist and MOCA Taipei, for further information please visit www.mocataipei.org.tw.
Related posts: