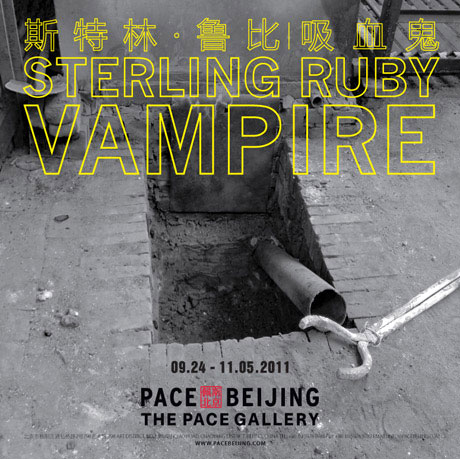 On September 24, 2011, The Pace Gallery, Beijing announced the opening of VAMPIRE, American artist Sterling Ruby's first solo exhibition in China as well as the first solo exhibition of a western artist at the Beijing gallery. Sterling Ruby, one of the most acclaimed young artists working today, will present all new work, including urethane stalagmite sculptures, spray-painted geometric sculptures resembling civic monuments, hallucinogenic color-field canvases, hand-wrought ceramics and bronze, basin-like sculptures.
Sterling Ruby makes art of myriad forms, employing a wide array of materials as his creative media. These media bear the heavy weight of social information, to the effect that the work they embody appears aggressive in form. That work is a product of an abstract process, one concerned with the socialization of form: it must be felt and interpreted in the semantic context of society to do justice to the powerful social forces possessed by its form. Glittering and shining off one another, Ruby's creations give rise to contradiction, conflict, and vacillation. Positioning these center stage, the artist renders aggression as casual as it is intense. Shapes inclined towards socialized form, alongside chaotic smatterings of color, leave the viewer feeling cold and violent tendencies. Destruction is thus transformed into a process of construction, and fabrication.
In accordance with the formation of cultural self-confidence, contemporary Chinese artists now endlessly strive to create and express through a variety of media, and likewise through narrative methods compress history and culture into new artistic forms. Through his exploration of medium, Ruby, on the other hand, comes face-to-face with form itself; therein he finds concurrence, and enlightenment. In his first solo exhibition at Pace Beijing, titled "Vampire," Ruby exposes, amidst our great globalization, a great collision between formal movements of East and West.
Sterling Ruby (American, b. 1972) received his B.F.A. from the School of The Art Institute of Chicago and attended the Art Center College of Design, Pasadena, California M.F.A. program. Ruby has exhibited internationally at institutions including the Ullens Center for Contemporary Art, Beijing; Museum of Modern Art, New York; Garage Centre for Contemporary Culture, Moscow; the Rubell Family Collection, Miami; MACRO, Rome; and Baibokov Projects, Moscow. In addition to his solo exhibition at the Los Angeles Museum of Contemporary Art, Ruby has been the subject of solo exhibitions at The Drawing Center, New York, and La Galleria d'Arte Moderna e Contemporanea, Bergamo, Italy.
Ruby's work is included in the following public collections: The Solomon R. Guggenheim Museum, New York; Hammer Museum, Los Angeles; Los Angeles County Museum of Art; Nasher Museum, Dallas, Texas; Israel Museum, Jerusalem, Israel; Yokohama Museum, Yokohama, Japan; The Art Gallery of Ontario, Ontario, Canada; Contemporary and Modern Art Museum of Trento and Roverto, Italy; Museum of Contemporary Art, Chicago; Museum of Contemporary Art, Los Angeles; Museum of Modern Art, New York; Seattle Art Museum, Washington; and Tate Collection, London.
The artist lives and works in Los Angeles.
Date:September 24 — November 5, 2011
Venue: The Pace Gallery, Beijing
Courtesy of Sterling Ruby and The Pace Gallery, Beijing
Related posts: