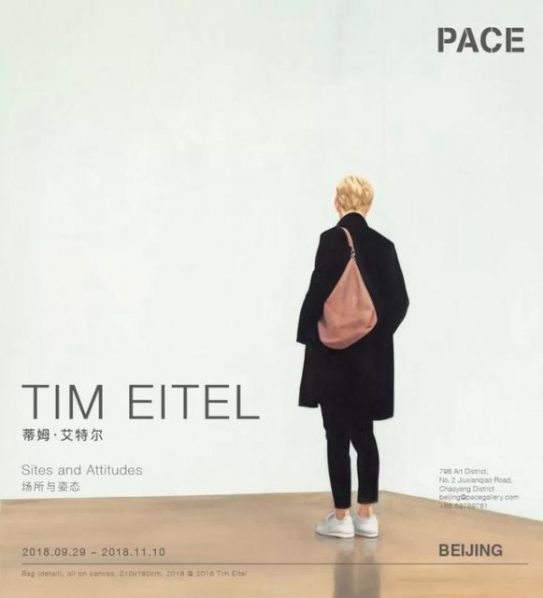 Following his inclusion in Pace's presentation at Art Basel Hong Kong 2018, Tim Eitel will have his first solo-exhibition in Beijing at Pace's gallery in the 798 Art District. Featuring a selection of new and recent figurative paintings, the exhibition will highlight Eitel's continued command of color, technique and form and showcase the artist's ongoing investigation of interior space, memory and perception.
About the artist
Tim Eitel (b. 1971, Leonburg, Germany) conveys a deep command of color, technique, and form in his figurative paintings inspired by his observations of contemporary life and art history. He studied at the Hochschule für Grafik und Buchkunst in Leipzig from 1997 to 2001 and was a Meisterschüler (Master Student) of Professor Arno Rink from 2001 through 2003. He has received a number of prestigious awards throughout his career, including the Landesgraduiertenstipendium, Saxonia, Germany (2002) and the Marion Ermer Preis (2003). Cofounder of the collective Galerie LIGA in Berlin, he was one of the leading protagonists of the New Leipzig School before gaining a reputation as one of the most important painters of his generation. He has participated in over fifty group exhibitions and twenty monographic exhibitions worldwide since 2000, including at the Museum zu Allerheiligen, Schaffhausen, Switzerland (2004); Saint Louis Art Museum, Missouri (2005); Kunsthalle Tübingen (2008); Rochester Art Center, Minnesota (2013); Essl Museum, Klosterneuburg, Austria (2013); and Kasteel Wijlre, Netherlands (2018). Eitel's work is held in numerous important collections, including the Albertina, Vienna; ARKEN Museum of Modern Art, Ishøj, Denmark; Deutsche Bank Collection, Germany; Hamburger Bahnhof, Museum für Gegenwart, Berlin; Museum Frieder Burda, Baden-Baden; and the Rubell Family Collection, Miami. Eitel has been represented by Pace Gallery since 2006.
About the exhibition
Opening Reception: September 29, 4–6 PM
Dates: Sep 29, 2018 – Nov 10, 2018
Venue: 798 Art District, No. 2 Jiuxianqiao Road, Chaoyang District, Beijing 100015
Courtesy of Pace Gallery, for further information please visit www.pacegallery.com.
Related posts: