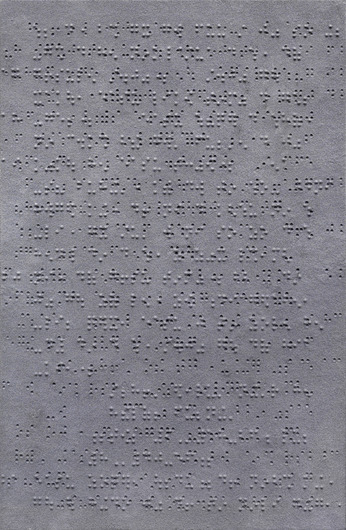 Pace Gallery is pleased to announce Let There Be Light, an exhibition featuring new ash paintings by Zhang Huan on view at 510 West 25th Street of New York from October 30 to December 5, 2015 with an opening reception for the public on Thursday, October 29, 6 to 8 pm. A new catalogue with an interview by art critic Barbara Pollack will accompany the exhibition.
Zhang's new body of ash paintings—made between 2011 and 2014—present passages from the Bible and "The Star-Spangled Banner" in braille. Emphasizing surface, the works continue his use of incense ash from Buddhist temples as a medium while demonstrating a departure from the figurative themes of his earlier ash paintings.
Zhang's monochromatic paintings, which differ in tone and surface value depending on the color and texture of the collected ash, have a minimalist quality with visual affinities to the work of Agnes Martin and Robert Ryman. Using the Chinese system of braille script, the paintings appear visually abstract but are concrete in their content. Zhang's use of a Buddhist material draws parallels between Buddhist texts and those of the Bible, presenting themes of human nature, truth and kindness that can be read as universal. By rendering religious passages in a tactile writing system using an inherently fragile material, Zhang is relating materiality to the methodology of prayer and illusions of belief. The emphasis of braille as a textural surface read through touch resonates with the corporeal dimension of Zhang's earlier performance work.
The exhibition also includes a figurative ash painting—Zhang's largest to date—measuring 122 feet long. Based on a photograph taken on June 15, 1964, the painting represents Mao Zedong surrounded by the central leaders of his government and over 1,000 loyal followers. For Zhang, who was born a year after the photograph was taken, the image prompts memories from his childhood during the Cultural Revolution. It represents a time in China's history fraught with disaster and disorder, when Chairman Mao sought to consolidate his rule over the country. By sourcing imagery from a media archive of government-approved material, Zhang is highlighting the fallibility of a constructed memory. The ash painting presents the appearance and spirit of China at the time, highlighting a collective devotion and ideology based in communist and socialist thought. June 15, 1964 demonstrates the potential for human history to be interpreted through multiple cultures and systems of belief, generating a growing dialogue and platform of communication.
Conceptually, both bodies of work on view are embedded within a framework of systems. The figurative work adheres to a controlled set of images used by the government to craft a tailored representation of Chinese history, while the braille paintings follow a standardized system of reading and writing. The subjects of the braille texts further exist within the structure of a system by referring to the hegemonic forces of monotheistic religion and nationalism.
Zhang Huan (b. 1965, Anyang, Henan, China) attended Henan University in Kaifeng (1984–88) and received an MA from the Central Academy of Fine Arts in Beijing in 1993. He emerged in the early 1990s in Beijing's East Village as a prominent figure in China's burgeoning contemporary conceptual art movement. His oeuvre engages themes of existentialism, spirituality and memory through a multidisciplinary approach that spans painting, photography, sculpture and installation. Zhang's early performance-based works push the boundaries of physical endurance and challenge the politics of authority in post-Tiananmen China. He continued his performance work while living in New York for seven years before returning to China in 2005, a move that coincides with a shift in his work toward object-based production. Zhang has directed numerous productions of George Friedrich Handel's opera Semele, most recently its US premiere at The Brooklyn Academy of Music in March 2015.
Zhang has had solo exhibitions at numerous international venues, including the Art Gallery of Ontario (2012); Rockbund Art Museum, Shanghai (2011); Ullens Center for Contemporary Art, Beijing (2010); Museum of Contemporary Art, Taipei (2010); and Shanghai Art Museum (2010). In 2007, Asia Society, New York organized the first retrospective of his work, which traveled to the Vancouver Art Gallery. Earlier this year, Carriageworks, Sydney, hosted Sydney Buddha, a solo presentation of a large-scale Buddha sculpture in aluminum and a casting of its interior in ash.
Zhang's work is included in over fifty public collections including The Solomon R. Guggenheim Museum, New York; The Metropolitan Museum of Art, New York; Musée National d'Art Moderne, Centre Pompidou, Paris; Museum of Fine Arts, Boston; The Museum of Modern Art, New York; San Francisco Museum of Modern Art; Shanghai Art Museum; and The Watari Museum of Contemporary Art, Tokyo.
In 2014, Zhang Huan was awarded the Chevalier de la Legion d'Honneur (Legion of Honor) by the French government, recognizing his contributions in the promotion of artistic and cultural exchange between France and China.
Zhang Huan lives and works in Shanghai. This is Pace's seventh solo presentation of his work.
About the exhibition
Duration: Oct 30, 2015 – Dec 05, 2015
Venue: Pace Gallery
Courtesy of the artist and Pace Gallery, for further information please contact Jennifer Joy, Sutton PR, +1 212 202 3402 or jen@suttonpr.com or visit www.pacegallery.com.
Related posts: