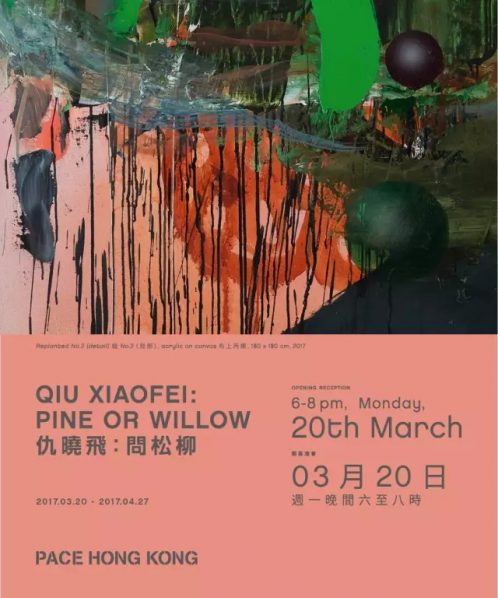 Qiu Xiaofei will hold his solo exhibition Pine or Willow at Pace Hong Kong. This is his third solo exhibition with pace, following his 2014 solo exhibition at Pace Beijing, and his 2016 exhibition at Pace New York. The exhibition will open on March 20, 2017, with a reception open to the public from 6:00–8:00pm.
A leading figure of China's New Generation artists, Qiu Xiaofei has long focused on the inner energy and expressive potential of the act of painting. His subject matter has evolved from iconographic experiments in individual and collective memory in his early period, to explorations of cultural psychology and the social unconscious, and the serendipity and instability that emerge within the painting process. He has found a tense balance between rich, hybridic elements of imagery.
This new solo exhibition will present the artist's latest works on canvas and paper, as well as painting installations. These new works further explore contradictory ideas seen in earlier works, revealing the unresolved dynamic elements within contradictions through repeated depictions of their primal states. The exhibition title Pine or Willow continues the allusions to selective viewpoints in his New York solo exhibition Double Pendulum, while drawing from the seemingly opposed images of the pine and willow to transform a superficial dichotomy into a subtle stalemate. This stalemate is present in the symbolic threads of the compositions, as well as between the expansiveness of the body and spiritual control within the act of painting. The latter has been a major thread in Qiu Xiaofei's recent creations, and has grown into a compelling and constantly evolving method of painting. With their lightness, the small works on paper in this exhibition provide us with a more intimate vantage for understanding the artist's work. Here, the oft-mentioned contradiction gains clearer emphasis in a reflection of the artist's sustained concern and anxiety regarding the human spiritual world. The eternal dichotomy and inner unity of contradictory relationships have provided endless momentum for his creations, allowing the artist to uncover limitless expressive potential for visual language within the limiting boundaries of painting.
About the artist
Qiu Xiaofei's artistic practice focuses on painting, as well as sculpture and installation related to painting. The concept of his work engages relationships between personal experience and history. Since 2003, Qiu Xiaofei participated in major group exhibitions in museums and international institutions, including the Kunst Museum, Bern, Switzerland; Center for Art and Media Karlsruhe, Germany; Tate Liverpool, Liverpool, England; Museum Boijmans Van Beuningen, Rotterdam, and the Groninger Museum, Groningen, the Netherlands. In 2010, Qiu participated in the 10th Havana Biennial. In 2013 Minsheng Art Museum in Shanghai held his solo exhibition 'Repetition' in the main exhibition hall, and his work was also presented at the Ullens Centre for Contemporary Art in Beijing in the same year. In 2014, his solo exhibition 'Apollo Bangs Dionysus', was presented at Pace Beijing. His latest solo exhibition, Double Pendulum, was on display at Pace New York in 2016.
About the exhibition
Dates: Mar 21, 2017 – Apr 27, 2017
Venue: Pace Hong Kong
Courtesy of the artist and Pace Hong Kong, for further information please visit www.pacegallery.com.
Related posts: