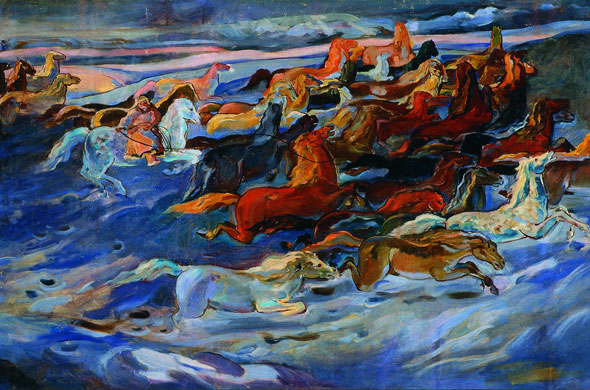 "Painting With Tears – Love and Hate in Situ Qiao's Art World" is about to open at CAFA Art Museum on August 5 and the exhibition will remain on view till September 10, 2014.
This is an academic research exhibition jointly hosted by CAFA Art Museum and teachers of the School of Humanities. The exhibition is planned by Cao Qinghui, Associate Professor of the Department of History of Art, it presents Situ Qiao's works including oil painting, pastel painting, drawing with bamboo, watercolor painting, book illustration, manuscript drafts, drawing, and sketch, etc. These works come from the collections of CAFA Art Museum, National Art Museum of China, Beijing Lu Xun Museum, Guangzhou Museum of Art, Xinjiang Art museum, National Museum of Modern Chinese Literature, and Situ Qiao's family, and it also displays a large amount of literature, including several important art comments, letters, photos, etc.
"Painting with tears, stupid, spending your life in the prison of art." – A sentence diverted from the diary of Situ Qiao is considered as the theme of the exhibition, and the exhibition is divided into 7 themed sections: "Holding a Bright and Beautiful Heart", "How Many Victims of the Disaster Die in a Strange Land", "Put Down Your Whip", "Flowing Rosy Clouds", "Story of Hunting Painting in Xinjiang", "Rose Village", and "Unfinished Painting". It attempts to display and design the works and document each unit, to focus on highlighting the love and hate in Situ Qiao. The exhibition will also set up a video zone in order to showcase that CAFA Art Museum repairs and protects the work by Situ Qiao. At the same time, during the exhibition it will also hold a number of lectures and communication activities of a high quality.
CAFA Art Museum and the School of Humanities come together to launch this exhibition, aimed at making a breakthrough and contribution to the art museum narrative and special study of the artist, and pays attention to present the material and discover the material with an essential practical node for artists from the perspective of the art museum, focusing on the three-dimensional art museum's interpretation of the artist from various perspectives, on the grasping of life and feelings of the artist, on the discovery of the function of research and reading in the exhibition area.
About the exhibition
Painting With Tears – Love and Hate in Situ Qiao's Art World
Host: Central Academy of Fine Arts (CAFA)
Organizer: CAFA Art Museum
Academic Advisers: Pan Gongkai, Xu Bing
Exhibition Director: Wang Huangsheng
Exhibition Curator: Cao Qinghui
Exhibition Manager: Tang Bin
Assistant Curators: Li Yaochen Guo Hongmei
Exhibition Operators: Wu Peng Su Shicun Song Jingming
Collection Management: Li Yaochen, Xu Yan, Jiang Nan, Wang Chunling
Visual Design: Min Zhiyi
Venue: the second floor gallery B, CAFA Art Museum
Opening Reception: 10:30 am, August 5, 2014
Duration: August 5 – September 10, 2014
Courtesy of CAFA Art Museum, translated by Chen Peihua and edited by Sue/CAFA ART INFO.
Related posts: