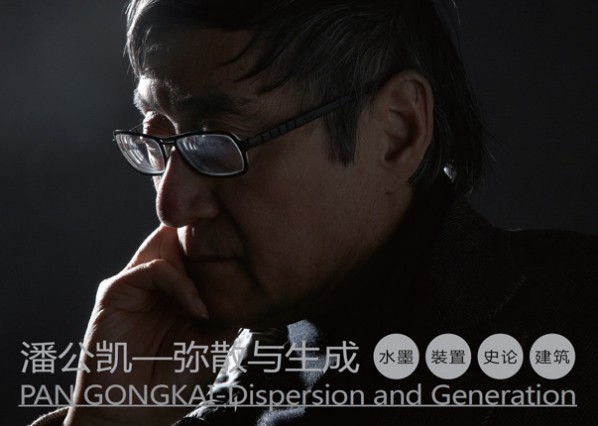 This exhibition takes as its purpose research and reflection. The two key concepts "dispersion" and "generation" point to problem awareness at the core of this exhibition. Rather than being a major retrospective, this exhibition intends to raise questions and bring about discussion and debate so as to trigger more thinking and add to the academic atmosphere in the present cultural scene.
Dispersion is a basic concept in modern thermodynamics. It refers to the heat flow process in a closed space, where heat flows from an area with a higher temperature to that with a lower temperature, ultimately causing thermal balance in the space, reaching a status of high entropy. Borrowing this concept, Pan Gongkai describes the transnational spread of culture and art in the age of globalization. In the past century, visual culture and systematic knowledge has spread through the world. Diachronic thinking and schools are transformed in this process into a synchronic constellation of plural cultural factors. The previously systematic knowledge is restructured, leading to a fragmented, pieced-together, flat and everyday global cultural and art scene, which could be described as that of dispersion.
To realize a new generation in culture and art in this background of dispersion constitutes the point of departure of Pan Gongkai's art making and thinking. The irresistible force of dispersion renders generation difficult, yet at the same time making it an objective worth all of the efforts of artists with real global perspective. Generation calls for both an interdisciplinary approach and the ability of systematic knowledge building. It is a process of conducting self-questioning, trial and error, making adjustments and cultivation. Generation starts from problem awareness, it does not end with any single answer; instead it is an open, procedural, interactive and evolving course. In short, dispersion is the background, generation is the purpose, and problem awareness is the method.
Pan Gongkai served as the President of the China Academy of Art and is now President of the Central Academy of Fine Arts. While busy with administrative work, he engages unremittingly in reflecting and thinking of basic issues in the contemporary cultural and art scene, exploring the possibility of cultural generation with persistent problem awareness. Pan Gongkai: Dispersion and Generation consists of four sections, each featuring, respectively: ink and wash painting, an installation, theoretical building and architecture. The section "Ink-painting Expression and Spirit" shows ink and wash painting by Pan Gongkai, which is a contemporary presentation of traditional spirit and competence of ink and wash painting. The section "Mis-construction and Transfer of Mind" features Pan Gongkai's installation, combining formal elements of contemporary Western art and ideals of Eastern intellectuals, showcasing an oriental construction of Western-style contemporary art beyond the diagnosis of Arthur Danto and Hans Belting. The section "Self-awareness and Four–isms" consists of documents of Pan Gongkai's research on modern Chinese art. He incorporates the study of modern Chinese art history into the larger frame of modernity studies, making new theoretical achievements. Section "Construction-Conceiving and Generation" shows Pan Gongkai's architecture experiments, reflecting his effort to fuse the experimental dimension and practical dimension of architecture.
This exhibition is a case study of Pan Gongkai's self experiment, demonstrating the clues behind his thinking and crossover experiments in the above mentioned four sections. It is at the same time a discussion of Pan Gongkai's theoretical thinking and a full representation of his recent achievements. What is illustrated by this exhibition is his theoretical and practical journey in contemporary art as he seeks, identifies, analyzes, and answers questions, then self-questions and self-criticizes, and generates further questions.
About the exhibition
Curator: Fang Zhenning, Lu Yinghua, Pan Qing
Opening time: 4pm, March 9, 2013
Duration: 2013.03.10 — 2013.03.31
Location: 2nd, 3rd, 4th floor exhibition hall of Building No.1, Today Art Museum
Courtesy of the artist and Today Art Museum, for further information please visit www.todayartmuseum.com.
Related posts: