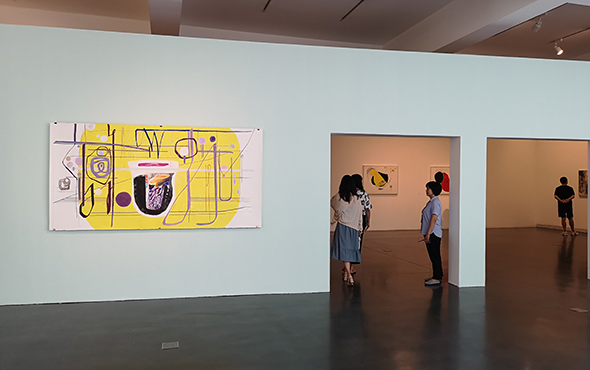 When we met Ms. Pang Tao at the opening ceremony held at Inside-Out Art Museum, she was slowly pushed out in her wheelchair by her family, she sat up straight as feisty as ever. Under the white fisherman's hat, her white hair showed her rich experiences of years as a respected artist. She spoke at a leisurely speed using understandable vocabulary with an unbelievably pleasing voice. She was full of enthusiasm, not showing any signs of fatigue. From this elegant lady who has experienced many sufferings, has also achieved great success, we could find so many valuable qualities: tenacity, perseverance, transparency, sincerity, concentration, and her paintings are like her character, intelligent and full of vitality.
Pang Tao, the daughter of Pang Xunqin who was the pioneer of the modern art movement in China in the 20th century. Since her childhood, Pang Tao has studied under her parents' guidance and she showed amazing artistic talent in her youth. "Whether it was during the period she studied in France or during the years after she returned to China, Pang Xunqin and Qiu Di who witnessed the trends of western modern art and actively advocated them in China, they introduced to young Pang Tao diversified learning resources and thinking." In 1949, Pang Tao was admitted to the Central Academy of Fine Arts when she was only 15 years old. Although she had to study at the Hangzhou Art College due to her parents' work, she chose to be enrolled again in the Central Academy of Fine Arts two years later.
In 1955, Pang Tao graduated with a master's degree and stayed to teach at the Printmaking Department at Central Academy of Fine Arts. She has cultivated many students during her career over the years. In mid-July, "Dancing Notes: New Works by Pang Tao" was quietly unveiled in Beijing, with many of her colleagues from CAFA, her previous students who now have their own position in the domestic art field, as well as a large number of art lovers, students and journalists all came to support her exhibition. Lu Yinghua, Curator of the exhibition and Inside-Out Art Museum expressed at the brief opening ceremony that, as they knew the character of Ms. Pang Tao and according to her request, they tried their best to simplify all the rituals. Keeping a low-profile and acting humble, is her consistent belief.
Creating a breakthrough and change are the key words of Pang Tao's artistic creation since the 1980s. "In 1956, I began to explore abstract paintings. Soon after the anti-right movement began, we were forced to stop. All of them were lost." Although her early paintings were not saved due to the war and various political movements. Since then, due to the political background at that time, most of her creations were about revolutionary historical painting on realistic themes, but her thinking on modern artistic creations has never ceased. After the end of the "Cultural Revolution", she began to further emancipate her mind and "consciously incorporated the in-depth thinking of the ontology of painting into the practice of artistic creation." This kind of change can be found in the "Travels in Guilin" Series and "Travels in Lijiang" Series in this exhibition. Pang Tao once said: "The painting of 'Travels in Lijiang II' in 1981 is only a part of the Elephant Trunk Hill. Unexpectedly, my alternations in colors would be criticized by the leaders in the art field many times. It was considered an abstract painting. At this time for me, when I was no longer 23 years old, I would not draw back and I decided to seriously explore it." The ignorance of the criticism made her devote herself to the creation of modernist formal language and she then began to form her own style and characteristics.
If it could be divided with the creating time as clues, this exhibition starts from the transformation stage and continues to today. The second floor exhibition hall of the Inside-Out Art Museum mainly showcases the beginning of her artistic revolution in the 1980s. Her trip to Guilin in the early 1980s brought her unprecedented experiences. The artist's visual impression was recorded by her direct experience with Nature, which showed a tendency in clear graphic patterning. The "Travels in Guilin" series and "Travels in Lijiang" series mentioned above were born in this period. For example, the work "Travels in Guilin II" was consciously divided into two parts using the composition of the image, forming some form of correspondence with big colored blocks of mountain and water. They are all symmetrical patterns, and this technique is considered to be an attempt to create a generalized landscape. In addition, this exhibition hall also displayed a series of collages including "Chemical Fiber and Nature" (1997) and "Nature and Plastics" (1997), which were created in the mid-1990s after she visited the United States and returned. The reason that these categories of works were put together was that they all reported on formal exploration and formal liberation, experimenting in painting materials, and extending to attempts to expand the creative medium."
In 1984, Pang Tao visited Paris to observe and study. This European experience brought her in contact with European modern art, and she began to think more about forms of art and research into art materials. After returning to China, she wrote and published the book "Research on Painting Materials" for art teaching. Due to her deep experience in the lack of Chinese painting materials and its minimal variety that hindered the free creation of artists in the new art period, she began to experiment with various painting materials while painting, and summarized the production formula and techniques of various Western painting materials in detail. The exhibition also shows the manuscripts, materials and tools used for the publication of this book.
In addition, in the practice of art,"when Pang Tao was soberly aware of the value of abstract art and the space for exploration, and she was more clearly convicted to a path of her own exploration that must not be repetition or imitation of Western painters, but should be "recreation" based on China's cultural heritage and its own feelings. Also, she positioned her artistic exploration as "not only pure abstraction, but should be post-abstraction", which clearly distanced herself from the general Western abstract painting, thus she began an experiment of re-creating traditional Chinese elements and abstract art. Therefore, on the first floor of the exhibition, the main display is the series of works featuring bronzes from 1985 to 1995. Curator Lu Yinghua believes that Pang Tao's exploration in this decade could roughly be divided into two stages. In the first stage, before 1990 and 1991, she abstracted the theme of bronze, and carried out in-depth and diverse explorations on images. In the second stage after that, she used bronzes to try to create patterns and planned experiments, and paraphrased the bronzes to portray objects in pure colors, lines, and planes. The image of the bronzes depicted in the first stage is more generalized. Her touches are expressive and the colors are very rich. In the images, her method was the bold use of complementary colors or careful combination of similar colors. The second stage is to abstract the patterns of bronzes. The picture retains the contour of the image, flattening and coloring, and pursuing subtle strokes and color changes in each of the tinted areas.
The third-floor exhibition hall presents her creations since the 2000s. Compared with her previous works, she seems to be more comfortable and free. Through abstract art creation, and further integration with social, realistic, and human reflections, Pang Tao said, "I have experienced terrible wars before I was three years old. After that, I have experienced countless hardships. Everything is so unbearable. I was looking forward to the 21st century as being more progressive, more harmonious, and more civilized. I never imagined that a series of horrors, disasters, and crises after 911. Many innocent people were killed. 911 showed that all disasters might be repeated even more fiercely. I was so furious that I excitedly painted the series of "Tribute to the Innocent Souls". In 2008, the Wenchuan Earthquake, for a long time, continuously reported the beautiful side of human nature, and I saw many moving stories of sacrifices for others' lives, so I created 'Hope' and 'Lights cannot be blocked' and other works, without losing hope, I hope 'hope' will not be disappointed."
Continuing the linear clue of time, the exhibition presents the newest series of gouaches on paper that she has created in 2017. This group of works connect the third-floor exhibition hall organically with the introduction."This series of new works by Ms. Pang could be regarded as a new page in Chinese abstract painting,"said Fang Zhenning, a famous contemporary curator, critic and artist, who talked about this group of works as a graduate from the Central Academy of Fine Arts. "This is the first time I have felt the reverberation of sound in Chinese abstract painting, just as I felt it before Kandinsky's work. The moment I felt it made me happy."
It is worth mentioning that this documentary exhibition also fully displays a handwritten letter by artist Huang Yongyu to Pang Tao in 2009. Among them, Huang Yongyu exclaimed that "It's unbelievable that after the 'Cultural Revolution' you have created so many pleasing paintings." There is no doubt that mentioning the starting point of Chinese contemporary art is often inseparable from the narrative of the artists in the 85 new wave period, and the artistic practice of Pang Tao "has not entered the ranks of the modernists advertised by the new wave, nor is it understood by the relatively conservative forces within the college and the system." Her abstract creations are little known. The curator Lu Yinghua said: "A new generation of critics and theorists who were active in the art world at that time focused their attention on the new ideas, new forms and new discourses that the younger generation of artists introduced, and they did not care for the quiet change conducted by middle-aged artists within the art world and in the art itself." Therefore, this exhibition chooses to take Pang Tao as a research case, trying to sort out the series of creative clues of the artist from the 1980s, and present the literature and manuscripts comprehensively. This is also significant in that the Inside-Out art museum initiates the series of exhibitions and event series that revisited the history of Chinese modern and contemporary art.
Text by Lin Jiabin, translated and edited by Sue/CAFA ART INFO
Photo Courtesy of Inside-Out Art Museum
Related posts: