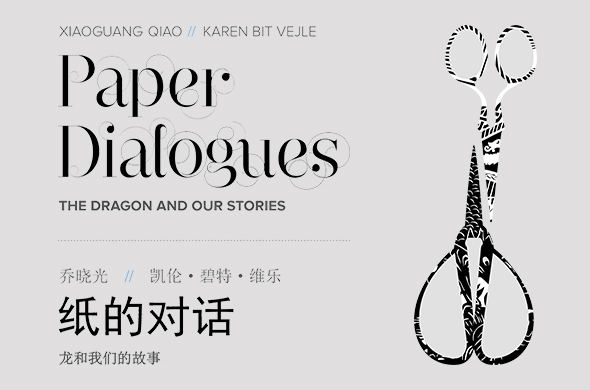 "Paper Dialogues" is an artistic collaboration between two prominent paper-cutting artists from China and Scandinavia. Both artists have created a large-scale paper-cut based on the theme of the dragon, a mythical figure that connects China and Scandinavia and has played a significant role in both Chinese and Nordic arts and craft. In Scandinavia, dragons have appeared in Norse mythology, heroic legends, on stave churches and Viking ships. In China, the dragon has an even longer history and a prominent position; it has always been and is still a living part of the culture. Its images are adopted in architecture, decorations, everyday items, culture festivals – and not least in paper-cuts.
"Paper Dialogues" is an encounter between two cultures, two artists, two dragons, that is both traditional and innovative. The old art form that was traditionally carried out by Chinese women is now performed by a Chinese man and a Scandinavian woman. The paper-cuts are untraditional in their expression – not least because of their spectacular size – and place the dragon motif from Chinese and Norse cultures in a new and exciting context.
This exhibition aims to establish a Sino-Nordic dialogue that involves more participants and goes beyond the actual artistic collaboration, and to inspire innovation and collaboration based on tradition and understanding.
About the exhibition
Curator: Gudrun Eidsvik
Artists: Qiao Xiaoguang,Karen Bit Vejle
Opening time: 3pm, Oct. 5, 2014
Duration: 2014.10.01 — 2014.10.12
Location: 2/F exhibition Hall of Building No.2
Courtesy of the artists and Today Art Museum, for further information please visit www.todayartmuseum.com.
Related posts: