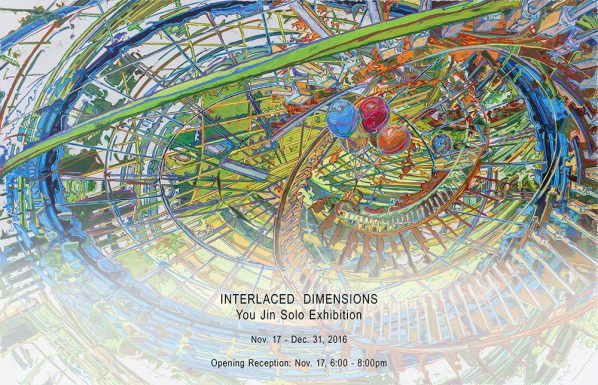 PARKVIEW ART Hong Kong is proud to present Chinese artist You Jin's debut solo exhibition in Hong Kong, Interlaced Dimensions, the exhibition presents 15 new works from the artist and the exhibition will remain on view till December 31st.
You is more than an artist creating an experimental painting trend in contemporary China, his works are based on multifaceted experiments with western painting techniques and a deep focus on traditional Chinese culture and art, through which he develops artistic practice illuminating directly, or indirectly, the rapidly changes in Chinese society. You is also an artist who expands the possibilities of contemporary painting by surpassing the boundaries of various domains including digital media, fashion and design. In this exhibition, the artist presents his most recent representative creations, with a special display of digital media works revealing a different aspect of his art.
You Jin depicts today's society with a rare clarity of mind and the word "deconstruct" definitely comes to my mind as viewers look to the works. He is an evident example of a keen observer of the society, able to describe the current world through his polychromatic paintings. In his earlier works, You Jin's works give a sense of deconstruction to his viewers. Even though the three-dimensional reality structure is kept, You utilizes color and lines to deconstruct and reconstruct his subjects. The new body of work presented in Interlaced Dimensions furthers this conceptual practice, however, in the new series, You completely breaks apart the three-dimensional structure and reconstructs a new reality in which the complex architecture give rise to passage ways that to lead to new dimensions. He attempts to describe the ineffable complexity of reality, juxtaposing different facets of time and space on the same surface. The artist seems to allude to the concept that it is not possible to perceive the world from a single perspective. Rather, one has to consider all the links of reality that are different but in parallel. Our daily life is characterized by an incessant, often obsessive displacement of our normal reference points or what we feel. Every day we need to simultaneously manage many external distractions, as a result of the recent technological progresses that has changed and is changing our life from its core. A peaceful revolution, but not one without any consequences. As You says, "Hybridity, mismatched arrangements of space are a new medium between man and the social environment."
About the exhibition
Dates: Nov 17, 2016 – Dec 31, 2016
Venue: PARKVIEW ART Hong Kong
Courtesy of the artist and PARKVIEW ART Hong Kong, for further information please visit www.parkviewarthk.com.
Related posts: