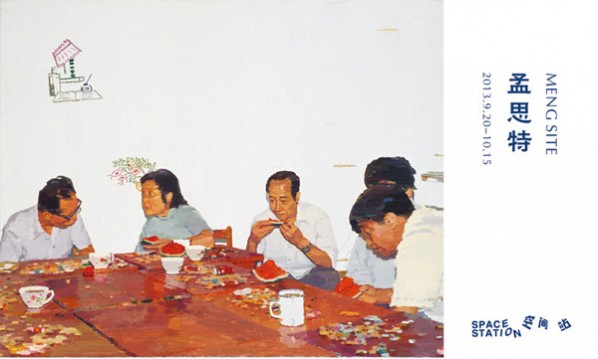 Space Station will present the first solo exhibition of edgy artist Meng Site on September 20, 2013. The exhibition will center on the oil painting works of this artist in the past three years, such as "Collective", "Festival", "Fragments" and other series, in total more than twenty oil paintings. In Meng Site's paintings, eating is no longer exclusively a personal matter, but a social collective behavior. It is not a tool or process but itself is a society. In Chinese society, emotional communication between people is completed through eating and drinking together, which symbolizes a kind of mass acceptance. Besides, the material of Chinese food, the round dining table and the cutting and cooking determine the collective nature of Chinese meal, namely eating together, differing from the individual and eating-with-appropriate-amount style of Western meal.
Group photo also becomes a brief gathering. Erasing individuality in collectivism does not seem to injury individuals. Instead, it proves to be loving and cheerful in their memories. All these alienated and surreal scenes have turned into routine records of life itself.
In the series of "Fragments", Meng Site presents a phenomenological glimpse of visual fragments with the help of Montage. It touches our soul like a child's gaze, unfolding a new truth just as the unstained world before language comes into being. With some special details and partial ones, it helps people enter into their own memories. The particulars not only lead people to travel through time and space, but also bridge the viewers and the paintings.
About the exhibition
Duration: Sep 20 – Oct 15, 2013
Venue: Space Station
Opening: Sep 20, 2013 Fri 16:00
Tel: 010-59789671
Add: NO.4 Jiuxianqiao Rd, 798 Art District, Beijing
Courtesy of the artist and Space Station, for further information please visit www.space-station-art.com.
Related posts: