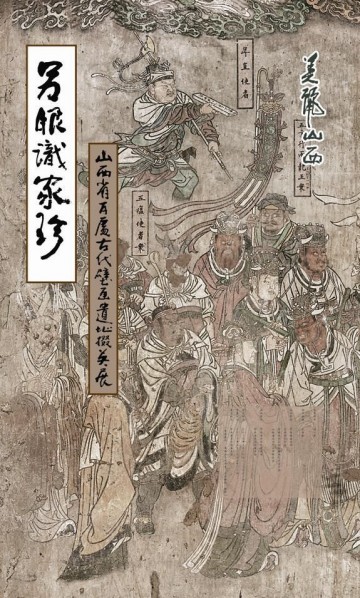 Jointly sponsored by the Chinese Mural Society, CAFA, Mural Art Council of the Chinese Artists Association and Shanxi Federation of Literary and Art Circles, organized by the Department of Mural Painting of CAFA, and CAFA Art Museum, "Paying Special Regard to Domestic Treasure: Exhibition of One Hundred Ancient Mural Ruins" &"Photography Exhibition of Shanxi Ancient Murals by Wu Pu-ao" were grandly inaugurated at CAFA Art Museum at 10:00 am, on May 19, 2013. It features more than three hundred photos of murals taken by the noted photographer Wu Pu-ao over the three decades.
Honored guests including Gao Hong, Party Secretary of CAFA, Hou Yimin, general planner of the exhibition, Jin Shangyi, Former President of CAFA, Xu Bing, Vice President of CAFA, Zou Peizhu, Huang Yongyu, Liu Dawei, Chang Sha-na, Yuan Yunfu, Ouyang Zhongshi, Jiang Caiping, Shen Peng, Fan Zeng, Yang Xiaoyang, Chen Danqing, etc., were invited to lecture at the opening ceremony, in addition, there were many famous painters, art educators, students from CAFA, and the Academy of Art & Design, Tsinghua University, as well as art lovers visiting the exhibition.
Born in a small village in Shanxi Province in 1959, Wu Pu-ao spent his childhood in Shanxi province, and was in the army for 21 years since enlisting in the army when 18 years old, to cultivate a persevering personality, and passion for art, he fell in love with photography when he was a soldier, increasing his creations when he was demobilized from the army. He spent his holidays and free time, the majority of his demobilized fees, salary and bonuses for photography, travelling between Beijing and other places to shoot photos, instead of being with his family. Because he is someone that can bear bitterness and tough labor, he has published more than 400 photographic works in various kinds of national and local professional magazines, newspapers and journals of photography, art and geography, winning more than 150 awards in various national and local photographic competitions, he is known as "the award-winning specialist", in the world of photography.
Wu Pu-ao is not only an expert, working hard to study photography, to gain expertise on a technical level, but also shooting miscellaneous themes, including scenery, folklore, features, flowers, animals, still life, as well as remaking various artworks, whose works are "miscellaneous", but delicately shot and professional.
The exhibition entitled "Paying Special Regard to Domestic Treasure", as Hou Yimin said: it invites people to look at precious relics again, with the use of "special regard", from a different angle, the perspectives of the painting, art history, especially the development of traditional Chinese painting, open a new perspective, drawing on some understanding, to amend some conclusions in history. On the other hand, it aims to show that it is urgent to protect ancient Chinese murals, as well as reflecting the status of some individual cases.
Together with the exhibition theme of "Appreciate the tradition from painting, be concerned to protect current art", a discussion was held at the exhibition hall at 13:30. It was presided over by Li Huaji, former Director of the Department of Mural Painting, CAFA, many noted painters and experts in art history, including Hou Yimin, Yuan Yunsheng, Xue Yongnian, Yang Xianrang, Chang Sha-na, Pan Shixun, Jiang Caiping, Lou Jiaben, He Jiaying, Tang Yihe, Zhang Yimin, Wang Yinsheng, etc., were invited to participate in it, publishing their views on the protection and succession of Shanxi murals, while speaking highly of the photography of Wu Pu-ao.
The exhibition lasts until May 25.
Text: Gao Kaixiang/ Chinese Photographers Association
Photo: Dong Huiping Quan Jing/ CAFA Art Museum
Translated by Chen Peihua and edited by Sue/CAFA ART INFO
Related posts: