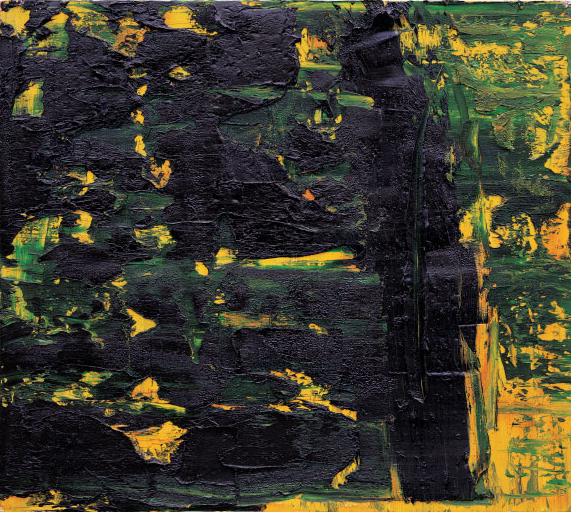 During the Cultural Revolution, Zhu Jinshi was an active participant in underground cultural and literary activities and in the late 1970s emerging as a member of the renowned and groundbreaking 'Stars' (Xingxing) avant-garde artist group alongside Ai Weiwei and Ma Desheng. Working in Berlin in the 1980s and influenced by Kandinsky, Zhu began his lifelong commitment to the language of pure abstract form. His involvement with abstract expressionist painting is not simply a desire to emulate Western antecedents however, but to invest that art form with characteristics that are specific to Chinese traditions of free brush (xie yi) and ink painting. Zhu's paintings are a visceral means of expression and whilst being embodied with preoccupations of his own culture the works take on a physical presence of their own. Moorhouse has described Zhu's paintings as dense tapestries of interconnected experience, in this respect their thickness is essential, giving tangible form to the fleeting and ephemeral.
Highlights of the exhibition include Water Lilies, 2006, which Moorhouse has included deliberately for it importance in the stylistic and material evolution of Zhu's work; it marks his move towards a more vibrant palette whilst hinting at his preceding work and connection to Gerhard Richter. Featured works include the enormous triptych Season of Paralyzing Strokes, 2012 which is almost 5 meters wide. The piece represents Zhu's tribute to modern Chinese poets, including Bei Dao, with whom Zhu became close friends in Berlin after he was exiled from his homeland in the 1980s. It is a record of this formative period of time in the artist's life as well as the artist's expression of the deep emotion felt towards Bei Dao, particularly after hearing that his friend had fallen ill in 2012.
The series of three paintings Hard Roads in Shu, will also be on show for the first time at this exhibition. Inspired by the literary works of renowned Tang dynasty poet Li Bai (701 – 762 AD) that describe the sublimely majestic mountains and impassable valleys in Sichuan (Shu). The influence of traditional Chinese landscape genre paintings can also be seen here with large areas of blank canvas left (liu-bai), a noticeable departure from his previously covered canvases. Zhu Jinshi has said of his series "Although these painting are not able to move mountains or break stones, the exceptional power of these paintings lies in their ability to clear the mind of all worries… [unblocking] creative and spiritual pathways."
Zhu describes how his works' completion hinges on the influence of time, material and environment. "There is a distinct visual difference in the painted surface now and from when the paintings had just been completed. The passage of time bestows upon the artworks new life, as if the material itself were living and breathing."
"Zhu Jinshi is one of China's leading contemporary artists. His highly distinctive approach was apparent from the early 1980s, when he made his first abstract paintings…His paintings assert themselves on their own terms, but they are not simply inert. Colour, light, texture and atmosphere are vital elements that animate these extraordinary works, informing them with the mysterious aura of life," said curator Paul Moorhouse, former curator at Tate Britain and now Senior Curator at the National Portrait Gallery, London.
"It is an honour to be presenting Zhu Jinshi's first solo show in Hong Kong to celebrate the first anniversary of the gallery. Bringing this important artist to Hong Kong at a time when the city is becoming a major art hub both in Asia and globally represents another milestone in Pearl Lam Galleries' mission to promote artistic dialogue between the East and West. Zhu's engaging and unmistakable paintings attempt to reconcile two traditions and underline how Chinese abstract has been a major undiscovered force in contemporary art. " Althea Viafora-Kress, international gallery director of Pearl Lam Galleries.
About the exhibition
Duration: 21st May– 3rd July, 2013, Monday – Saturday, 10am – 7pm
Venue: Pearl Lam Galleries 601-605 Pedder Building 12 Pedder Street, Central Hong Kong
Tel: +852 2522 1428
Fax: +852 2840 1088
Courtesy of the artist and Pearl Lam Galleries, for further information please visit www.pearllam.com.
Related posts: