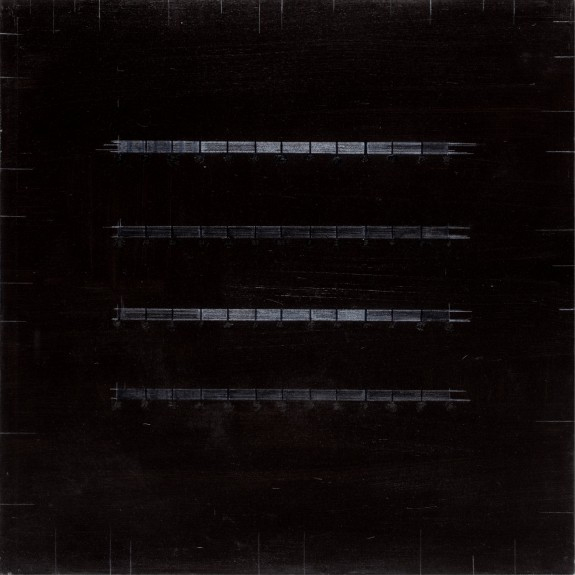 Pearl Lam Galleries will present the first solo show of works by young emerging artist Li Xiaojing (b. 1981) in Shanghai. BEYOND THE CANVAS: Li Xiaojing will showcase over 20 new paintings from 28 January until 18 March, 2013.
Li Xiaojing was born in Shandong province in 1981 and studied printmaking and oil painting at the Sichuan Academy of Fine Art. Li is a representative of a new generation of Chinese artists, creating highly personal and meditative work in response to an increasingly urbanised and materialistic world. She produces fewer than ten paintings each year. The exhibition presents the most comprehensive selection of her works to date.
In contrast with the politically-charged and grand narrative works of the 1980s, Li's paintings are highly intimate and reflect the artist's internal thoughts and feelings. Her subtly ironic and absorbing paintings often employ monochromatic backgrounds, black, blue or brown lines and geometric and natural forms to explore the non-linear and chaotic nature of time and space.
Encompassing universal themes—heaven, earth, humanity and natural forms—Li Xiaojing's quietly beautiful and diverse compositions are not restrained by the physical confines of the painting as she creates a relationship between what is portrayed and what lies outside the boundaries of the image. Li says, "In my paintings, various forms, blank space and what lies beyond the canvas are all encompassed."
About Li Xiaojing
Li Xiaojing (b. 1981, Shandong, China) holds a bachelor's degree in Printmaking and a master's degree in Oil Painting from the Sichuan Academy of Fine Arts, Chongqing. In May 2012, Li participated in the opening group show at Pearl Lam Galleries Hong Kong: Chinese Contemporary Abstract, 1980's Until Present: MINDMAP. Other group shows include +Follow (2010) at MOCA Shanghai, China and Yi Pai—Century Thinking (2009) at Today Art Museum, Beijing, China. She has also exhibited in museums and galleries in Chongqing, China and Jakarta, Indonesia. The artist currently lives and works in Beijing.
About Pearl Lam Galleries
Pearl Lam started exhibiting and promoting Chinese contemporary art and design in 1993 in Hong Kong. Currently, Pearl Lam Galleries consists of two spaces in Shanghai: a Fine Art Gallery and special project space; and a gallery in Hong Kong. Pearl Lam Galleries will also open a new design gallery in Shanghai and a major space at Gilman Barracks in Singapore later this year.
Presenting an exhibition program of the highest quality, Pearl Lam Galleries has championed the promotion and re-evaluation of the philosophy, perceptions and aesthetics of Chinese art for almost 20 years. From an early stage, popular touring shows such as Awakening: La France Mandarine, the French influence on Chinese Art (2004–06) characterised the exhibition programme with their intercultural dialogue and dynamic work by international artists from established and emerging markets. Exhibiting Chinese artists such as Lan Zhenghui, Li Tianbing, Wang Dongling, Zhang Huan, Zheng Chongbin, and Zhu Jinshi reinterpret traditions, fuse cross-cultural influences and examine China today. The exhibition program also presents major solo exhibitions of international artists stimulating cross-cultural dialogue and cultural exchange between China and the rest of the world. As well as continuing to support young emerging artists such as Tsang Kin-Wah and Li Xiaojing, the Galleries will also bring solo shows by major international artists and designers to Hong Kong and Shanghai including Entang Wiharso, Jenny Holzer and Yinka Shonibare this year.
Pearl Lam Galleries has tirelessly promoted design as an art form in China, seeking to challenge the Western hierarchy of art forms. Pearl Lam Design shows works by established and emerging international designers including André Dubreuil, Maarten Baas, Mattia Bonetti, and Studio Makkink & Bey. Pearl Lam has funded an artist-in-residence program for artists and designers across the globe, inviting them to push the boundaries of traditional Chinese art and craft techniques and create new works that reflect their experiences in China.
About the exhibition
Exhibition Dates: 28 January–18 March, 2013
Opening Time: Monday-Sunday, 10:30am–7pm
Opening reception on Sunday, 27 January, 2013, 5–7pm
Venue: Pearl Lam Galleries
Address: 181 Middle Jiangxi Road, G/F, Shanghai, China 200002
Cher Zhou / Pearl Lam Galleries
cher@pearllamfineart.com / +8621 6323 1989
Erica Siu and Veronica Chu / Sutton PR Asia
erica@suttonprasia.com / veronica@suttonprasia.com / +852 2528 0792
Courtesy of the artist and Pearl Lam Galleries, for further information please visit www.pearllam.com.
Related posts: