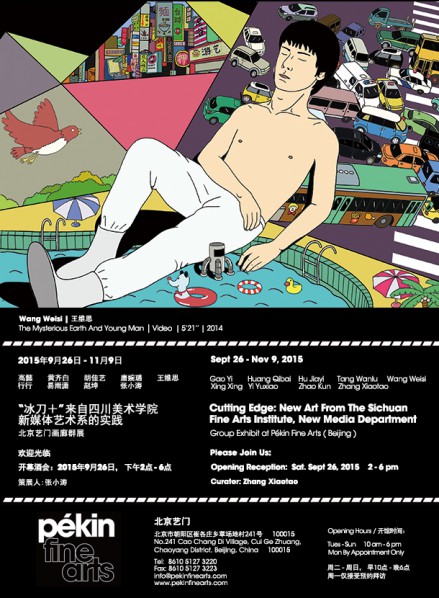 This exhibition is presented by professors and students from New Media Department of The Sichuan Fine Arts Institute. The original Chinese title of the exhibition "Ice blade" is taken from the Chinese idiom "Ice is made of water, but colder than water". The ice represents a minimalistic and severe force. One knows not the solitude and coldness if one does not climb to the zenith. In this exhibition, artists talk about the dilemmas in the fast-changing Chinese society, from perspectives of body, rhetoric, spectacle, globalization, personal experience and micro-politics. How can we go beyond feminism? How can we transcend localized experience? How can we unveil certain relationship between bodily experience and genealogy of knowledge? Today's artists create not merely images, but also knowledge. Art, as a means to engage in society, uses language to translate the spirit of such engagement. Art is a medium of social intervention, and it is also a site for interactive relations. Artists hope that this exhibition would serve as a starting point, where we could define our own intervention paradigm, and establish our own methodology, logic and symbolic system. Cultivating art as a belief, we can open up a future with art as a medium of life. Contemporary art produces knowledge and images. Image is both a symptomatic discursive thought and a praxis of social intervention. Image is itself performance, and moreover an adhesive of reality. Image is text. Image is politics. What is eventually the destiny of image?
About the exhibition
Curator: Zhao Xiaotao
Date: 26 Sep 2015 – 9 Nov 2015
Venue: Pekin Fine Arts, Beijing
Artists: Gao Yi (b.1993, Guang'an, Sichuan, China), Huang Qibai (b.1992, Hanchuan, Hubei, China), Hu Jiayi (b.1993, Xinjiang, China), Tang Wanlu (b.1991, Chengdu, Sichuan, China), Wang Weisi (b.1988, Chongqing, Sichuan, China), Xing Xing (b.1988, Henan, China), Yi Yuxiao (b.1989, Chengdu, China), Zhang Xiaotao (b.1970, Hechuan, Chongqing, China), Zhao Kun (b.1990, Henan, China).
Courtesy of the artists and Pekin Fine Arts, for more information, please contact Pekin Fine Arts by email info@pekinfinearts.com or call (8610) 5127 3220.
Related posts: