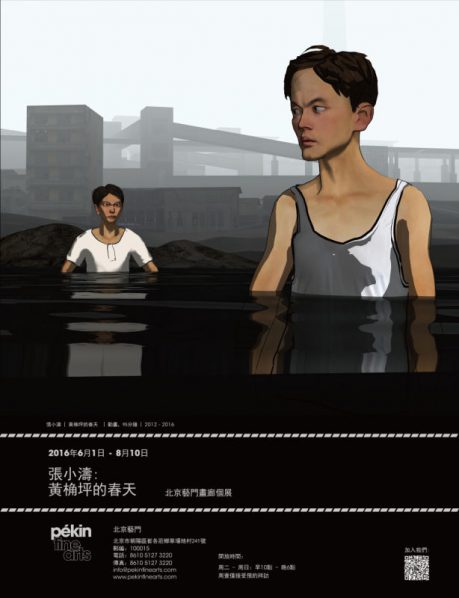 Pekin Fine Arts presents its second solo exhibition by Zhang Xiaotao, co-founder of the Sichuan Fine Arts Institute's New Media Department. The exhibition will present an abridged version of "The Spring of Huangjueping" (2016), the two-hour digital animation documentary movie that was entered into the 2016 Berlin International Film Festival. The artist, for the first time, uses
diverse animation techniques to present a documentary film, telling a child's story of growing up in Sichuan's Chongqing in the 1960's and 1970's. The mood of the film is one of post Cultural Revolution melancholy, combined with a new and equally tough psychological pressure: The gruelling intensity of post-Cultural Revolution university entrance exam passing. The film focuses on a
classmate who survived the Cultural Revolution, only to commit suicide after not passing the university entrance exam.
Zhang's earlier 30 + minute long video animation work, "Mist" (2014) was recently on exhibit at the Albright Knox Museum in Buffalo, New York, in "Screen Play: Life In An Animated World" (2015), the largest museum group exhibition to-date of artists using animation techniques and tropes in their work. Nearly 40 artists were included from over 20 countries, with works covering the past 25 years.
Zhang's work with animation film, 3D digital video and related techniques first gained international attention following the exhibit of "Sakya" and "The Adventures of Liang Liang" video animations in the 55 th Venice Biennale (2013).
In addition to pioneering the idea of presenting a documentary film in animation form, in Zhang's second solo exhibition with Pekin Fine Arts the artist will also show new works on paper and canvas inspired by scenes from his video work, and recently exhibited at the 6 th Moscow Biennale (2015).
About the exhibition
Date: 1 June – 10 Aug, 2016
Venue: Pekin Fine Arts
Courtesy of the artist and Pekin Fine Arts, for further information please visit http://pekinfinearts.com or contact info@pekinfinearts.com or call: (8610) 5127 3220.
Related posts: