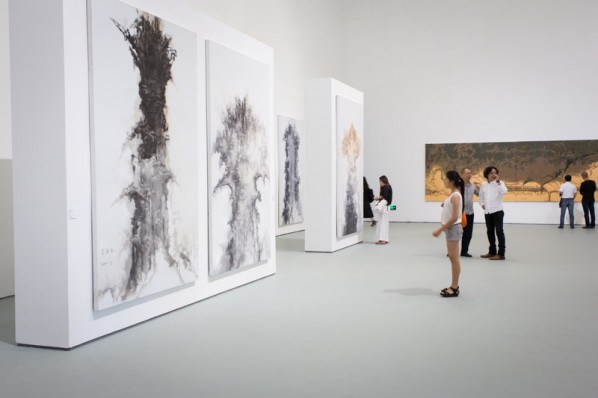 "Pending – Su Xinping Solo Exhibition" opened at Today Art Museum, Beijing at 15:00 pm on September 15, 2013. The exhibition was curated by Ms. Shu Kewen, the famous scholar and the Associate Editor of SDX Life Weekly, and co-organized by Today Art Museum and the Central Academy of Fine Arts.
As time went into a new century, especially after the year of 2007, Mr. Su seemingly returned to the experiment of individualized language, combed through some elements typical in his early works and tried to integrate them with personal experience and expression. So-called personal experience refers to his expression language and method accumulated in long-term printmaking practices, e.g. two-dimensional characteristics, pure and simple structure, application of oil paints, together with free brushwork, materiality of paint and natural revelation of internal feeling. Mr. Su frankly said that it was hard to name the indication of such an expression, no matter the "Landscape," "Grey" or "Eight Things", they were all from imagination and somewhat ambiguous. He was looking for a way to accurately convey his inner feeling, and to depict individual's inner world in a "seemingly ambiguous but actually accurate" manner.
For an artist as Su Xinping, who continuously challenging himself in artistic creation he would impel himself to return to the origin, in order to gather momentum for going beyond himself. In recent years, Su Xinping concentrated musch of his interest on considering and exploring the possibility of contemporary conversions of the idea and method of traditional Chinese painting, as well as personal artistic language. Through persistently drilling and refining his most familiar language and method, Su finally found the artistic language and expression method suitable for him. Also, in reconsidering and comprehending the spirit and idea of traditional Chinese painting, he strove to realize contemporary conversion of the idea, and thus purposely formed his unique artistic language. This is what the exhibition intends to highlight.
Experimental status of "Pending"
Ahead of the official opening ceremony on the opening day, as one of the most active artists in the Chinese contemporary art circle, the opening of this exhibition attracted a large number of guests and audiences inside and outside the art world to visit it. Guests invited to present at the opening included: Gao Hong, Party Secretary of CAFA, Pan Gongkai, President of CAFA, Tan Ping, Vice President of CAFA, Wang Min, Head of the School of Design, CAFA, Chen Lvsheng, Director of National Museum of China, Lao Zhu, Professor of Peking University, Gao Peng, Director of Today Art Museum, curator Shu Kewen,
Mr. Shao Dazhen, Mr. Jin Shangyi, Mr. Zhan Jianjun, Mr. Sun Jingbo, Mr. Song Yuanwen, Weng Naiqiang from CAFA, Prof. Chen Qi, Prof. Chen Wenji, Prof. Liu Qinghe, Prof. Yi Ying from CAFA, as well as Zhang Xiaogang, Wang Guangyi, Fang Lijun, Li Jin, Shen Ling, etc.
"I have been very fond of Su Xinping's works, including his early prints portraying Mongolia and lumbers. Over the last decade, his creative theme and style has been greatly changed, due to his sensitiveness to some issues facing contemporary China, he looked upon the social issues from the perspective and vision of an artist. In addition, he is a very good teacher, of excellent basic technique, which would be seen from the semi- abstract, strong subjective imagery."
— Pan Gongkai, President of CAFA
"I think there're a lot of changes in these works by Su Xinping, the most important two tips for us to visit an exhibition are: firstly, whether there's a change of the artist; secondly whether the artist has a progress. From the perspective of changes, the exhibition features works which are in between abstraction and figurative, I believe that it is a big change for Su. As for the progress, which is difficult to define for many artists, Su's early art had gained a great impact, but he was not stagnant but constantly changing, which itself is already a very difficult thing."
—Tan Ping, Vice President of CAFA
"Su Xinping has always been an artist in the exploration, his painting media and artistic languages have always been changed. But eventually, he has always focused on exploring the nature of art, the relationship between art and real life, his thinking of consciousness, life and art. This point is consistent in Su Xinping's art, what changes is not his spirit but the media and new way of expression."
— Prof. Shao Dazhen, CAFA
"This generation of artists like Su Xinping, I think they have a relatively good art gene, and have been very well nurtured, so they are not satisfied with the existing achievements of prints, but keep inventively trying in other artistic fields.
—Chen Lvsheng, Director of National Museum of China
"Su Xinping has been focused on return to the status of a "real artist", I think this status is necessary for an artist, that is one will never know where he/ she will go in the future."
—Gao Peng, Director of Today Art Museum
"On the one hand, the title of 'Pending' is more accurate for his works, on the another hand, it more accurately corresponds to the issues which Su Xinping is facing and trying to solve, that is as an artist, he no longer wants to quickly solve the issues, but to create when an issue "is about to be solve", on the contrary, the rich and complex space is more interesting."
—Curator Ms. Shu Kewen
"There are a lot of artists locating in a turning point of art, which is to change the interest of character to the interest of nature. I think it is a phenomenon that there is a natural sense of intimacy between Chinese people and nature, when we observe the nature by the view of nature, we would have many our own understandings, including the ruins of plants presented in some works of Su, which are lack of vitality, but precisely perform the contradiction between the human and nature."
—Xu Lei, Art Director of Today Art Museum
The exhibition will remain on view through to September 24.
About the exhibition
Duration: September 14 – September 24, 2013
Location: 2nd floor exhibition hall of Building No.1, Today Art Museum
Opening Reception: 15:00 pm, Sep. 14, 2013
Host: Today Art Museum, CAFA
Journalist: Yu Ya, Photo: Hu Zhiheng/CAFA ART INFO
Translated by Chen Peihua and edited by Sue/CAFA ART INFO
Related posts: