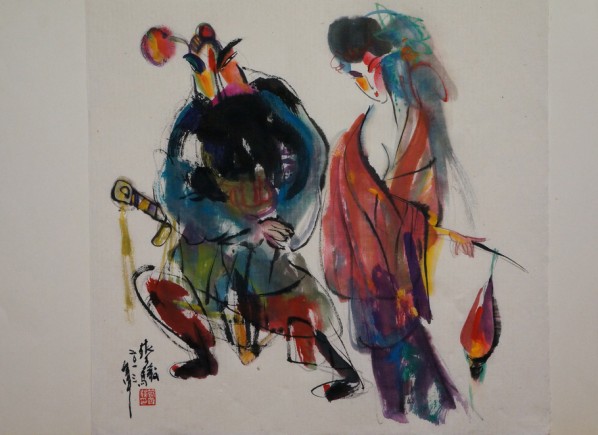 Guan Qijun, who is expert in painting traditional Chinese opera figures, will bring his new works to Shanghai with his solo show "Peony Pavilion: 2013 Chinese Opera Figures by Guan Qijun" opening October 26 at Chi Han Art Museum. The exhibition will remain on view through to November 5.
The artist has narrated Chinese legend in burbly tones in his art works with Chinese opera element, which is the symbolization of culture in China, consisting of different characters in Chinese opera. Having stopped off on the way seeing the artist's works, everyone feel like roaming through the sea of strong atmosphere with Chinese traditional culture and come to lose themselves in the classics; Meanwhile, the rhythm of Modern Art and the fusion of horizon between the classic and the consciousness of Avant-garde spirit had being delivered extremely its message to the spectators. Each pieces of artist's works with brilliant color and being bubbled with songs and dances, had ever made people be overwhelmingly aware of the real feeling of the "Opera in painting, Singing in Opera", performing harmony and pure art through its high integration of ideality and magnificent.
Guan Qijun, an eminent painter of unusual character, has enjoyed high prestige in the art world in the Chinese and Western. He graduated from Shanghai Drama College, and then entered into Shanghai People Art Press acted as an important personnel having created on production of Serial pictures, such a experience at this time had laid the ground work for his moulding capability in his earlier period. In 1995, Guan Qijun was invited by Canadian Government to Canada as of his great aptitude in art, and then acted as the president of Chinese Painting Association and International Renowned Painter Joint Commission, Canada, in the local place. Guan Qijun always thinks that the traditional Chinese opera give us quite lot of space in expression and imagination, so he has devoted to the exploration of the frontier in the field all the year round. Compared with Guan Liang and Han Yu, who are famous artists in tradition Chinese opera, Guan Qijun's works strongly emphasizes drawn the stylized form of acting, the painting color, the decorative arrangements and sound effect of traditional Chinese opera by disorganizing the plot and character roles , rather than focusing on the plot and a breathtaking moment. So it's probably hard to see a certain episode and figure from some formula of any Chinese operas, but making people have the feeling of seemingly intimacy; each painted face maybe Xiang Yu, and each female lead probably is Mo Guiying, who both are mighty men and women in the Chinese ancient. Guan Qijun's works is a bold at mixture of typical set pieces and characters of traditional Chinese opera, remolding the image with a high symbol. Meanwhile, the artist has blended the abstract quality with reality of color, just like pouring Chinese color liquid upon the canvas, keeping a mighty sense of vision pounds of abstract color freely based on structure of painting image, and achieving a kind of new structure painting strength.
Courtesy of the artist and Chi Han Art Museum.
Related posts: