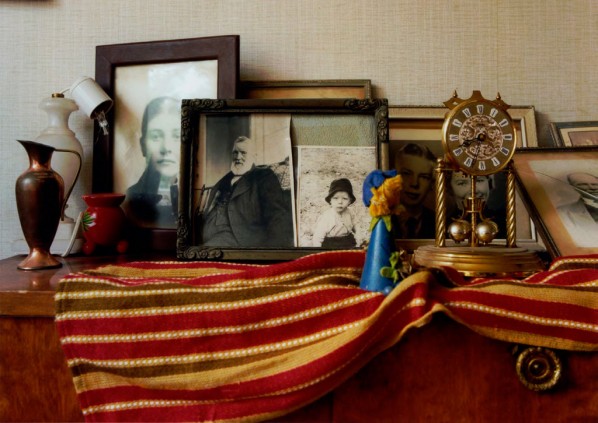 When leafing through Peter de Ru's catalog Sven, the photograph that makes the deepest impression features nothing more than a few pictures placed on a table; it is a picture of pictures. These pictures are very old, portraits made with early photographic processes and classic 1950s group photos, but we cannot see the new photos behind them. Time has stopped at that point. Although there is a clock on the table, the time has clearly stopped. The pictures solidify time, and that solidified time also exists outside of time through this photograph. The information carried in a photograph is inconsistent with the feelings and reflections of the viewer transmitted by the photograph. The motivations are completely different for different viewers. The viewer's feelings about a picture, whether good or bad, strong or weak, come from the photograph itself and do not exist outside the photograph. Pictures arouse emotion in viewers and produce a desire for further understanding.
Peter de Ru photographed an elderly man named Sven, utilizing a square format and a simple documentary method to describe the minute details of this man's life. Through these fragments, we return to the life of this lonely old man. Viewers for their own impressions about this old man and his living environment from the apples he collects, the abandoned batteries, the calendar covered in writing, and the stain-covered work clothing he wears as he reads a newspaper in his living room, fixes fishing nets by the TV, and prepares food for winter storage in a messy kitchen. We do not see the shadow of his family in this old man's life. Looking purely at the photographs, we can imagine the life of a typical elderly Northern European man. We can see the pure white snow outside the window, but the cracks in the window glass are held together with a piece of tape. This view of the limitless snow hints at that the fact that the old man lives in a house or cottage far from the city, alone in the forest. The two chairs on the porch seem as if no one has sat in them for many years; they are bleached by the sun and worn by the rain, just like the wooden wall behind them. They look like they will rot before long. This elderly man lives in a house on the outskirts of Stockholm. The items in the house are moved very seldom; the kitchen features an assortment of wrapping paper on the oil-stained oven and kitchen counters and dishes stacked in the sink, showing that he has not cleaned the kitchen in a long time.
This series of photographs was take from a simple and objective perspective, providing no visual impact through wide or unconventional angles. Apart from a few portraits of Sen in his home, the series consists o objects related to Sven's life. The pictures are often taken at close range, revealing rich details. The images do not contain any emotion; they are calm and objective. This group of color photographs lacks the poetry of his black and white images, but these moments fit the image into our normal viewing habits. Thus, ordinary things are fixed on film, and they perpetually exist there. Even if real things are abandoned, they deteriorate with time.
In his early years, Peter de Ru studies at the Christer Strömholms Photography School, founded by renowned Swedish photographer Christer Strömholms . Anders Petersen, who was best know for photographing Cafe Lehmitz in Hamburg's red light district in the 1960s, also graduated from this school, which is famed for its documentary photography tradition. Peter de Ru's early works, including Betania and Rotterdam 1979, are typical documentary photographs, recording a fragment of a person's life or a city. This year, he shot the thematic series Sven. Through this living world, Sven's house, and everything in his home, we feel time passing and taking the opportunity to reflect on our lives. Perhaps life centers on these choices, but time moves in cycles; if we cannot move forward, we cannot move back, thus forming a closed circle.
About the exhibition
Project Directors: Rongrong & Inri
Curator: Mao Weidong
Assistant: Zhong Linchun
Opening: March 9, 2013, Saturday, 3:30 p.m.
Artist Talk: March 10, 2013, Saturday, 2:00 p.m.
Duration: March 9 – April 6, 2013
10:00 am to 6:00 pm (Closed on Mondays)
Location: Three Shadows Photography Art Centre
Address: No 155A Caochangdi, Beijing, China
Tel: +86 10 6432 2663
Courtesy of the artist and Three Shadows Photography Art Centre, for futher information please visit www.threeshadows.cn/en.
Related posts: