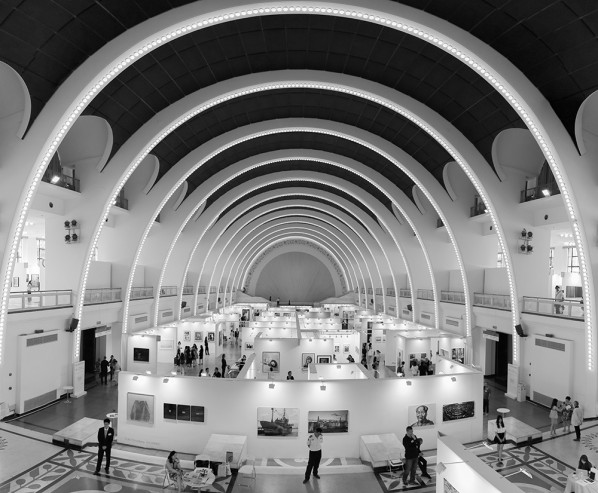 Photo Shanghai 2015, organised by the World Photography Organisation, ran from 11-13 September at the Shanghai Exhibition Centre and attracted over 26,000 visitors including major international and Asia-Pacific collectors. Those in attendance included curators from leading international contemporary art and photography museums and private collectors from over 20 countries including China, Hong Kong, Japan, Korea, Taiwan, Singapore, USA, France, Germany and the UK. This impressive second edition of Photo Shanghai has cemented its position as Asia's premier art fair dedicated to photography and as Shanghai's most international art fair.
Fair Director Alexander Montague-Sparey comments:
We are delighted to have seen in China a considerable increase in awareness and passion for photography this year, which has translated into strong sales of iconic vintage and contemporary masterworks. With this fair, photography has positioned itself as the medium of choice for collectors new to the art world. Photo Shanghai continues to be the go-to place for established collectors from the region to find blue chip photographs by the household names from Europe and the US. It is also a new source for Western collectors to explore opportunities in established and cutting-edge material from China, Japan, Korea, Taiwan and Singapore.
We were very excited to host photographers such as Candida Höfer, Jimmy Nelson, Erwin Olaf, Jacob Aue Sobol, Yan Wang Preston, Rong Rong& inri, Michio Yamauchi, Arno Rafael Minkkinen, Aki Lumi and Yuki Onodera. Our aim for next year will be to continue to offer a very curated and elegant fair with an extensive talks programme which contextualizes key collectable photographers.
Organiser Scott Gray, CEO, World Photography Organisation adds:
From our inaugural year in 2014 to this the second edition of the fair, the photography market in China has matured. The audience is far more knowledgeable and the resulting potential for galleries, both domestic and international, to reach out to this new informed market, along with its large expat community, is immense. We are grateful that Photo Shanghai has been so warmly welcomed by the city and are proud to have created a platform upon which the sale of collectable photography can grow not only in China, but across the Asia-Pacific region.
Photo Shanghai 2015 was a highly curated fair featuring museum scale and quality exhibitions. It included nearly fifty international galleries and over 500 works for sale by some of the East and West's most exciting names from the world of fine art photography.
Highlights included the Asian debut of celebrated American artist Taryn Simon's Birds of the West Indies series presented by Gagosian Gallery, a cutting edge video installation programme by Professor Zhang Peili and a rare opportunity to listen to and meet internationally acclaimed artists and experts as part of the fair's event programme.
Talking about their experiences of Photo Shanghai, the following galleries commented:
Benjamin Jäger, CAMERA WORK (Berlin)
The VIP preview and fair in general was well attended by serious collectors, including those who had attended the show last year. The Chinese audience is far more educated than in 2014 and Photo Shanghai goes a long way to ensure this education of the market continues. Sales have been good, and includes three new works by Yoram Roth, presented for the first time at the fair, which sold on the opening night, and an additional three works from the catalogue.
Magda Danysz, MD Gallery, Shanghai
We had a great fair with good sales. To present a solo show, such as we did with Erwin Olaf, is always a huge investment for any gallery at a fair such as Photo Shanghai. However, Olaf's show was very well received by both collectors and the public and therefore the risk has been rewarded.
Yuko Kosuge, Taka Ishii Gallery, Tokyo, Paris, New York
Photo Shanghai is a great opportunity to meet new collectors and to build relationships in a key new emerging market. Being part of the fair is wonderful exposure of the gallery name and this heightened knowledge of our work extends way beyond the fair's closing date.
George Kocis, Staley Wise, New York
As one of the first American galleries to present at the fair we were unsure what to expect from sales, however, we are delighted to have sold a number of pieces including two editions of Ormond Gigli's iconic Girls in the Window. For an American gallery, the exposure to the Asian market that Photo Shanghai offers is invaluable, you cannot put a price on this.
Photo Shanghai 2016 will return to the Shanghai Exhibition Centre on 9-11 September 2016. The inaugural edition of its sister fair, Photo San Francisco, will open at the Festival Pavilion, Fort Mason Centre from 20-22 January 2017. Both will continue to drive the World Photography Organisation's commitment to connect buyers and galleries from both East and West.
Courtesy of Photo Shanghai, for further information please visit www.photoshanghai.org, for further details please contact Jill Cotton, Senior PR Manager, World Photography Organisation via jill@worldphoto.org / +44 (0) 20 7886 3043 or Kristine Bjørge, PR Manager,World Photography Organisation via kristine@worldphoto.org/ +86 139 1701 3743.
Related posts: