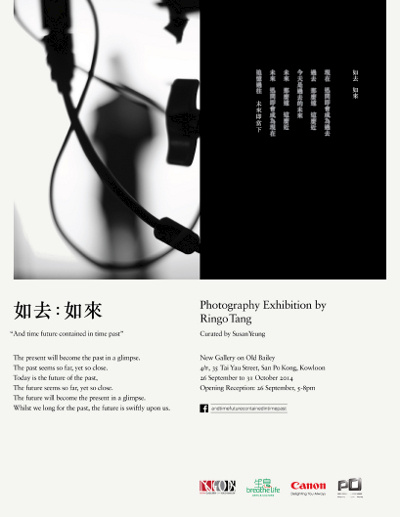 New Gallery on Old Bailey proudly presents "And time future contained in time past", a photography exhibition by Hong Kong renowned photographer Ringo Tang. Organized by Breathe Life Arts and Culture, and curated by Susan Yeung, this exhibition will be held from 26 September through 31 October, 2014.
A group of different people were invited to share their personal stories and life experiences; to talk without inhibition or pretense. And Ringo captured this moment in time their thoughts and feelings, their energy and spontaneity, their hopes and dreams for tomorrow, their passion and zest for life…
Photograph participants included Ms. Agnes Chan Mei Ling, Mr. Kam Tai Keung, Ms. Josephine Koo Mei Wah, Dr. Rebecca Lee Lok Sze, Mr. Yuri Ng Yu Lie, Mr. CC Tang Chi Cheung, Mr. William Tang Tat Chi, Mr. Wucius Wong Wu Xie, Mr. Karma Tenzin, Ms. Yu Mo Lin, Mr. Henry Steiner, and more.
Born in Hong Kong in 1961, Ringo Tang is visual worker, photographer and TVC director. His acute awareness of the 'Art Scene' is seen in his many faceted works. His reputation is that of someone who always keeps experimenting with new styles and pushing things to the edge. Ringo has worked as a professional photographer since 1984 and started film making in 1994.
Ringo is the recipient of many international and local awards. Including Double Take Documentary Film Festival 2002, Longyxi Awards 2000, New York Festivals Film & Video Awards 1998, Mobius Awards 1998, Photo District News Award for Excellence, HK4A Best Photography & Creative Awards 1996, HKDA Photography Gold 1990, HKIPP Gold 1995, Time Asia Pacific Advertising Awards, Communications Arts & The Art Director's Club Awards of New York.
About Breathe Life Arts and Culture
Co-founded by Susan Yeung and Ada Chan, Breathe Life Arts and Culture organized 'Breathe Life Arts Exhibition' throughout Beijing, Shanghai and Hong Kong from 2011 to 2013. This exhibition cultivated environmental awareness through art. Showcased works by the two co-founders and six Hong Kong renowned artists, including director Dante Lam Chiu Yin, jewelry designer Dickson Yewn, musician Peter Kam, lyricist Chen Shao Qi, photographer Ringo Tang and art photographer Derek Que.
About the exhibition
Duration: 26 Sep – 31 Oct 2014
Venue: New Gallery on Old Bailey
Opening Reception: 26 Sep 2014 Fri 17:00-20:00
Opening Hours: 11:00-19:00 (Mon-Sat)
Enquiry Email: info@ngoob.com
Tel: 852-22349889
Add: Unit A, 4/F, 35 Tai Yau Street, Kai Tak, Kowloon, Hong Kong
Courtesy of the artist and New Gallery on Old Bailey, for further information please visit www.ngoob.com.
Related posts: