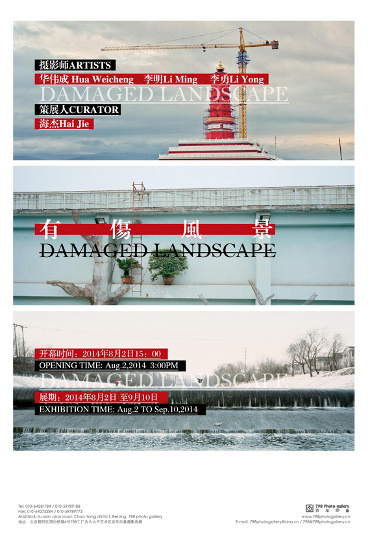 The marvellous spectacle of urbanization with more metaphor comes from the symbol reconstruction and sale in new landscape movement, like the reappearance of Epang Palace (Running out of financial resources, it still faces the crisis of being demolished.) in ancient times and the names (Oriental Hawaii, Chanson and Thames Town) of various developers in modern times. The absurdity of the tide of "faking" symbols incurred by new landscape movement just lies in a favorable turn in which absurdity is distorted due to the intervention, move and even falsification of original landscape. The exhibited works of three artists all avoid the landscape with large scale, but deeply demonstrate other unusual sceneries.
In the series Daily Life, Li Yong from the Northeast shows "abnormal" daily life. On the one hand, he retains the scenery for reconnaissance on the spot of Joel Sternfeld; on the other hand, he releases his unknown poetic feelings based on surrounding landscape. These poetic feelings are "the graceful gauze given by him to reality".
Li Ming from Qinghai starts the traveling dream in the childhood triggered by his elder generation and sets foot on the Silk Road which is like an old phaeton full of smiles. However, his journey is disappointing. His poetic feelings are not aroused. Instead, he picks up those landscape fragments left by history. These landscape fragments involve belief, industry and daily life, etc. The road is deserted. The flocks of sheep which are expelled nearly go to the end of the earth. All sceneries are exiled.
Hua Weicheng who lives in Chongqing takes his road to the north and keeps a close eye on the dramatic adventures of landscape, namely a fairy mountain to be eradicated, a pavilion in muddy wilderness, a huge flagon tilted down to the ground by mountain road, the forgotten Avalokitesvara statues standing near the water and the rusty guideboards in the desert and so on. Standing for a warning and recall, but also banter and doubt, his work End of Ashes seems to be prosperous like a dreamland, but be lonesome and realistic in fact.
About the exhibition
Dates: August 2 – September 10
Venue: 798 Photo Gallery
Address: No.4 Jiuxianqiao Road, Chaoyang District, Beijing. P.O.BOX 100015-85, Beijing 100015, China
Courtesy of the artist and 798 Photo Gallery, for further information please visit www.798photogallery.cn.
Related posts: