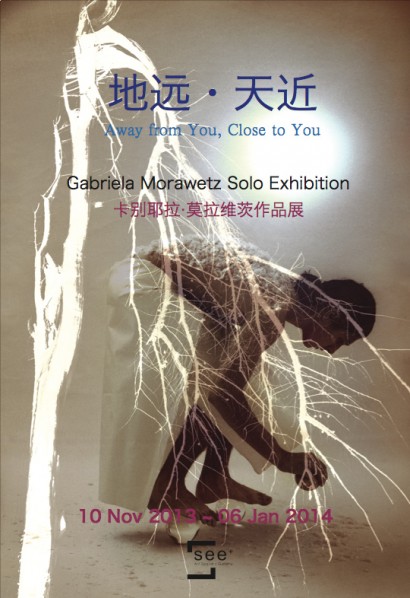 "I look for a kind of visual perfection, but paradoxically, this deliverance of an inner vision passes through the effect of an optical blur…I have always felt an attraction to the hidden part of the reality. Therefore I try to put into question the feeling of equilibrium we try so hard to preserve…", said Gabriela Morawetz.
Born in Poland, Gabriela Morawetz's deep-rooted hometown memories, as well as the heritage of the romanticism of Poland's cultural tradition, have always been reflected in her works during different periods of her creation. Her tutor in painting, Professor Nowosielski gave a profound influence on her. Some of the symbols representing spirituality in her works come from the Orthodox Art. Gabriela Morawetz tries various forms of language and materials, relentlessly exploring the relations of energy and magnetic force between man and nature. The universe and the Earth's magnetic field is omnipresent, influencing our existing world all the time.
With Gabriela Morawetz, the subject is frontal, it stands there in front of us, whether a face, a sleeper, a copse, rumpled linen or an unidentified object. It changes only if we ourselves change position: features then become distorted, smoke shifts.
While she retains the option of various techniques, the best possible modes of presentation Gabriela Morawetz is wary of certain methods used in contemporary photography. She does not seek to impress by ostentatious means such as large formats or light boxes, or with alluring colors. Not for her constructivist framings that impose a monumental feel on the subject.
Her works made people pleased to associate to old books of Camille Flammarion or amateur spiritualists and devotees of other occult manifestations, showing the levitation of the sleeping medium, or the materialization of magnetic fluids or the dead, all of which are "proved" by photographs of some astral body or of the face of some distant ancestor imprinted in plaster.
Weather transparent veil combined with pigment printing on canvas, or convex glass superposed on printed image on paper, the main themes of her mysterious world are wonderfully depicted. Thanks to the multiple processes to which she subjects the photographs that come together in a given composition, Morawetz seems to be trying to capture the aura of the banal.
Whereas Morawetz's works are moments of suspension, frozen moments of an action about which we know nothing more, eminently plastic scenes, rich with multiple, veiled meanings. The play is not simple, but it is up to us to act.
About the exhibition
Opening reception: November 10, 2013, 3:00 pm ~ 6:00 pm
Exhibition time: November 10, 2013 ~ January 6, 2014
Exhibition place: Beijing see+ gallery
Courtesy of the artist and Beijing see+ gallery, for further information please visit www.seegallery.net or contact seegallery@vip.126.com.
Related posts: