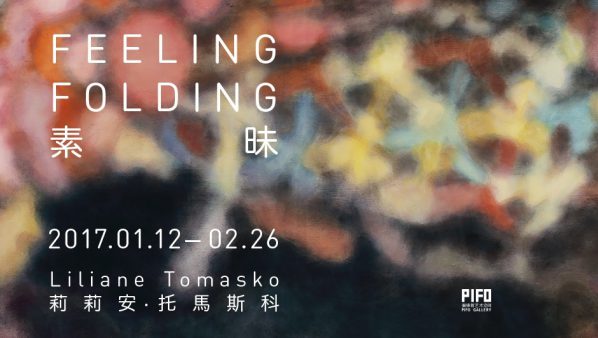 PIFO Gallery is proud to present the first exhibition in China of Liliane Tomasko – Liliane Tomasko: Feeling Folding. She has exhibited widely in US and European museums and galleries and her work is to be found in public collections across the West, from IVAM in Valencia Spain to the Kunstmuseum in Bern to Try-me in Virginia, USA. This exhibition will provide a historical survey of Liliane Tomasko's painting between 1999 and 2016 as well as three photographic works and one sculpture created exclusively for the venue.
As the curator Jiang Yuehong says, 'Look at Liliane Tomasko's work and one encounters intriguing paper bags, yearning folds and dream-like shadows, engendered through an extraordinarily rich
visual vocabulary'.
Liliane Tomasko began by taking photographs of ordinary domestic objects – yet the polaroid itself produced an ambiguous image at the same time as it recorded the details of domestic life. Memories hidden in folds, imaginary lives concealed in bags – it is as if the artist has found a rich inner life through domestic objects. She transfigures matter in specific spaces: "…I felt there was so much around us that was quietly interesting and calling to be looked at."1
One reference point might be Berthe Morisot, the great impressionist painter who found life in fabrics and textiles, another might be the Italian artist, Giorgio Morandi who found in domestic
objects a way of articulating inner life.
As the artist herself says, "The paintings were not based on photography, were painted without a reference to something seen, only working with the memory of fabric, linens and textiles in
general." 2 These mute objects from daily life – "…an odd shadow cast against the wall, a dust filled corner of a window or clothing and other textiles casually thrown to the ground or onto a bed"3 – have become more abstract and freer. The emotional life that these recent paintings incarnate reveals itself to be wide and just as marvelous as that incarnated in the earlier objects and fabrics.
This exhibition gives a Chinese audience an opportunity to enter the world of a very fine artist.
About the artist
Born in Zurich, Switzerland in 1967, Liliane Tomasko studied at Camberwell School of Art and Chelsea College of Art, London. She received her MFA from the Royal Academy of Art, London in 1998 and since her work has been exhibited widely in Europe and the USA. Liliane Tomasko's works are included in the following public collections: Kunstmuseum Bern, Bern, Switzerland; Hilti Art Foundation, Schaan, Liechtenstein; IVAM-Institut Valencia d'Art Modern, Valencia, Spain; and K20/K21 Kunstsammlung Nordrhein-Westfalen, Dusseldorf, Germany and Try-me, Richmond, VA. Tomasko lives and works in New York, Barcelona and Munich.
Quoted from email letters between curator and artist on 26 April 2016.
Quoted from email letters between curator and artist on 5 August 2016.
Quoted from email letters between curator and artist on 26 April 2016.
About the exhibition
Exhibition Dates: 12 January – 26 February 2017 10:00–18:00 (Closed on Mondays)
Opening: 17:00, 12 January 2017
Venue: PIFO Gallery
Courtesy of the artist and PIFO Gallery, for further information please visit http://pifo.cn/.
Related posts: