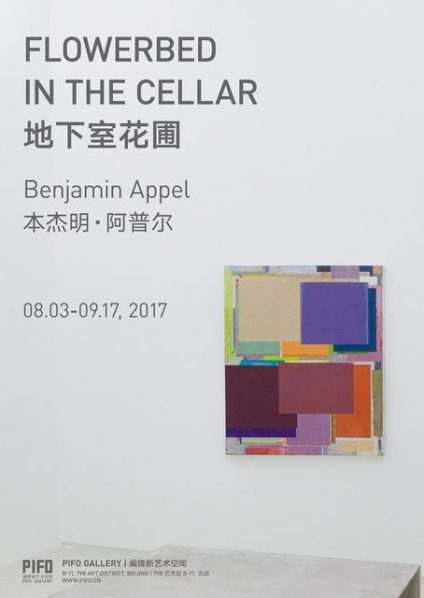 PIFO Gallery is pleased to present Flowerbed in the Cellar – the first solo exhibition in China by German artist Benjamin Appel. Inspired by the geometry of rectangular forms, a familiar structure in daily life, the shape is unseen in nature. The exhibition brings together oil paintings; site-specific installations and video work with associated text by Appel, all produced during two PIFO residencies in Beijing, one in 2016 and 2017.
About the artist
Benjamin Appel, b. 1978, Augsburg, Germany, lives and works in Leipzig.
Benjamin Appel explores the intersection of painting, sculpture, and everyday objects in his practice. His works, across mediums, bear strong visual and thematic resemblances, characterized by a tendency towards minimal forms, architectural geometry, and everyday or non-traditional media – drawing an allegiance with Arte Povera, Appel frequently uses the unfinished surfaces of concrete, earth, soil, old furniture and wood in his work. His thickly built-up oil paintings have a similar tactility, but are even more austere in form and colour palette.
About the exhibition
Dates: Aug 3, 2017 – Sep 17, 2017
Opening: Aug 3, 2017
Venue: PIFO Gallery
Courtesy of the artist and PIFO Gallery, for further information please visit http://pifo.cn.
Related posts: