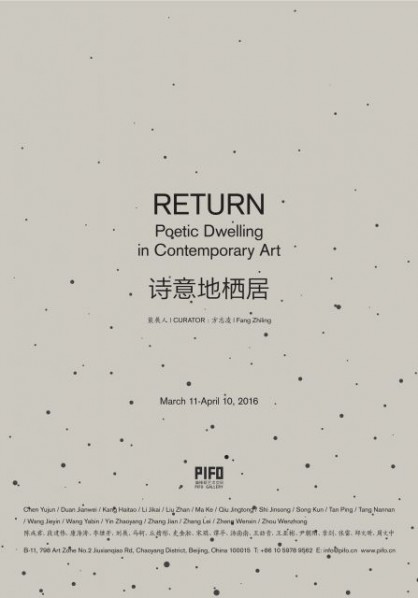 As the opening exhibition of PIFO Gallery, 2016 the tenth anniversary year, RETURN: Poetic Dwelling in Contemporary Art demonstrates a new tendency towards simplicity in visual culture. With the stranglehold of the avant-garde and the experimental starting to lose its grip, artists are pursuing more poetic forms of simplicity as a driving energy behind their new work. By bringing together a group of artists who have rarely shown together, each one emphasizing the collision between the personal and the social, each one overcoming the pull of commercialization of art practice, each devoted to showing more instinctive power through their artworks. The curator FANG Zhiling and PIFO Gallery offer new insights into contemporary artistic practice.
With a group of artists ranging from the very established, making work since the 1940s, to the very new, emergent forces of recent years, and in spite of having diverse artistic languages and intentions, what remains constant in this exhibition is each artist's profound commitment to practice and engagement with contemporary art and culture. Rejecting a strategic, cynical, market-driven methodology and, as a consequence of collision and communication, of culture and time, these artists choose to return to a more authentic form of art-making.
About the exhibition
Date: March 11 – April 10, 2016
Opening: March 10, 2016, 16:00, Thursday
Venue: PIFO Gallery
Curator: Fang Zhiling
Artists: Chen Yujun, Duan Jianwei, Kang Haitao, Li Jikai, Liu Zhan, Ma Ke, Qiu Jingtong, Shi JInsong, Song Kun, Tan Ping, Tang Nannan, Wang Jieyin, Wang Yabin, Yin Zhaoyang, Zhang Lei, Zhang Jian, Zheng Wenxin, Zhou Wenzhong.
Courtesy of the artists and PIFO Gallery, for further information please visit http://en.pifo.cn.
Related posts: