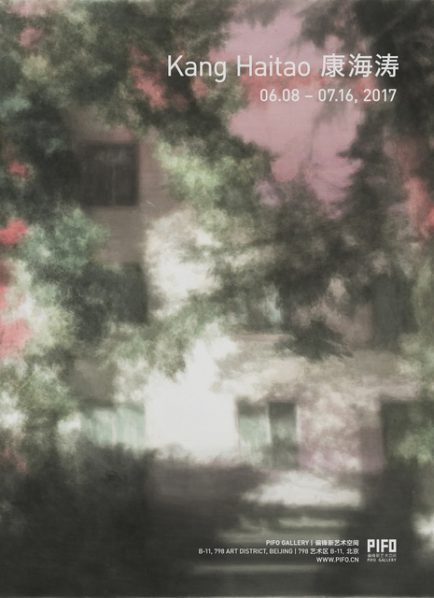 PIFO Gallery is delighted to present the self-titled exhibition of artist Kang Haitao. His recent works on paperboard presented in the exhibition shows Kang Haitao's gradual trajectory towards a simpler, more abstract route of self-derivation. Not only the simplified depiction of daily scenes, but also showing more interest in simple scenery with more abstract attributes.
Landscape painting is Kang Haitao's way of depicting the world: the sight of distant mountains in the soundless dark, the lonely, fuzzy lights of a gas station, a dim corridor, an outer wall cast in light and shadows… These quiet dreamlike yet somehow ordinary scenes unconsciously reveal a complex, deep emotion and anxiety in mind.
From his initial nightmarish nightscapes, to the abstract or faded everyday landscapes, and to his recent imagistic landscapes that absorb the sophisticated experience of viewing pre-existing imagery, all these are the landscapes seen through the eyes of a restless witness. When this 'sense of hopelessness' destroyed all the passions for witnessing distinctive 'meanings and values', these 'landscapes' are the spiritual narratives, which are full of wisdom and passions, in this aphasic era.
Kang Haitao's recent works, such as Memory of Light and Wall, have represented the new horizon of Post-70s Art in China, with his deep inner experience, his tactful sentiments and attitudes, as well as his calm, magnificent and mature expressions.
About the artist
KANG Haitao Chinese, b.1976, Chongqing, graduated from Sichuan Fine Arts Academy in 2000, lives and works in Chengdu, Mianyang. Kang Haitao is an oil painter who is fascinated by the ordinary and the everyday object. Kang has participated in several international exhibitions — Hong Kong, the USA, Korea, the Czech Republic and Italy. His works are held by the Long Museum, the Shanghai 21st Century Minsheng Museum and Wuhan Art Museum as well as by numerous private collectors.
About the exhibition
Duration: 8 June – 16 July 2017, 10:00 – 18:00 (Closed on Mondays)
Opening: 8 June 2017, 17:00 – 19:00
Venue: PIFO Gallery
Courtesy of the artist and PIFO Gallery, for further information please visit http://pifo.cn.
Related posts: