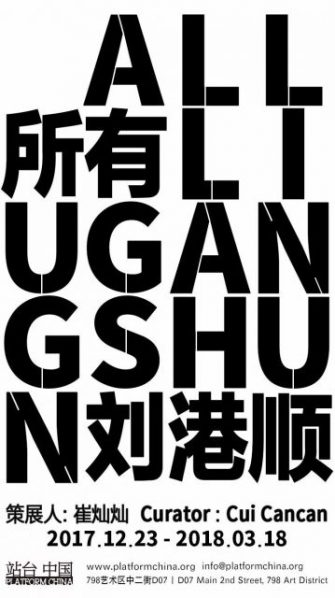 Platform China is pleased to announce that they will dedicate 3 months to showcase Liu Gangshun's grand exhibition "All". This exhibition is by far the largest scale ever on Liu Gangshun's works, and it is also a brand new attempt on the expression of exhibition by curator Cui Cancan, furthermore, it is Platform China's biggest move to embrace the coming new year at the end of 2017. The exhibition consists of 3 parts: "Three Elements of Conception", "Notes of History", "Midnight Press", covering 20 years of the creative journey of Liu Gangshun, also over 100 works including paintings, files and so on. The opening will be held for 3 times on 2017.12.23, 2018.01.20 and 2018.03.03. The exhibition will last till 2018.03.18.
Liu Gangshun was born in Huangshi, Hubei Province in 1963, from 1983 to 1992, he was doing administration work in the Steel Construction Factory. At that time, he participated in the new wave of Fine Arts movement, and in 1988, his first personal exhibition was held in Huangshi Culture Center. He left the state-owned organization in 1992, and started his own business. From 1995 to 2002, he established an independent book store called "Post-Human Book Store" in Huangshi, and then he settled down in Beijing from 2002 till now.
Ever since the "Post-Human Book Store", Liu Gangshun's method of creativity has had asignificant change, he is deeply affected by his reading experience and knowledge. He excused himself from the Chinese art genres, and turned his focus to the personal edition and narration of knowledge textbooks, historical images, and art events. Such as, the recording of the French New Novel events, the discussion of classic images in art history and art organizations, the analysis towards the landmark architectures, and the visual connection between words and the wisdom quotes. In his 20 years of creative period, Liu Gangshun has built his own circulating and escalating self-development system, and become a unique example in the Chinese art scene with special researching values. Just like his works "The only way to safety is taking risk" and "Don't Stop Don't Stop Don't Stop Don't Stop" which put hints on personal situations and willpowers, these are confirmed in Liu Gangshun's works repeatedly.
The distance from the main stream originate from Liu Gangshun's special way of working and art perspective, just like his work "The Most Obscure Poem Is Facing the World" in 2011. Liu Gangshun intentionally avoided the Chinese identity in his work, and cut off the direct and trendy reality experience, only left the emotion provided by the reality, and simplified to the factions of symbols and words. In other words, we cannot see in his works about the any culture of an area, a localized touch of a nation's concept, or an opposing identity which is against the western art development. From this meaningful point, Liu Gangshun closed his self-link with his physical being in the reality, and turned to walk towards a more opened global language.
Liu Gangshun always insists on the unique perspective of the individual, and roams freely in the vast space among knowledge, history and art. Just as the curator Cui Cancan said:"He quotes the knowledge to response to experience of the knowledge. Using visual texts to provide this world another conceptual, 'entropy' type of increasing and decreasing order. Wood can turn into charcoal, and fire as a tool can also change the reality."
Christopher Wool style of exhibition posters, 1+1 style of font relation, balanced visual order, have reconstructed the information which belong to different systems. These posters smartly introducing us into this exhibition's structure, the 3 units use the method of flashback, connecting each other alternatively, and being each others' ending and process. "Three Elements of Conception" leads to Liu Gangshun's creating sequence, 3 inter-connected geometrical elements, Architects (rebuilding of the space) – Abstractions (scale of thestructure) — Words (different interpretation of the language), history is divided by formality and language, being rid of the original power structure and the order of reality. "Notes of History" reveals Liu Gangshun's brand new personal definition of the classic historical images, through many different ways, such as recreating a new and only self-explanatory notes, including honest recordings, multi-layer painting and erasing, building and dismantling, switching styles and deliberate display. "Midnight Publisher" once again returned to the beginning of the artist, the reality in the flesh. Extracting from Liu Gangshun's creativity and mindset during the 1990s, to find his past attitudes and opinions, the things that moved or touched him in the past and also those moments of reading French New Novels at night.
The 3-month exhibition period couldn't provide all the things about Liu Gangshun. "All" in here has become a wish, a hope to find what we are intend to have, and what we can have, express and aim for. "All – Liu Gangshun" is a re-organization of Liu Gangshun more than 20 years' works. When it becomes a personal exhibition with 3 parts and 2 discussion conferences, organizing this requires an extreme and clear attitude. "A concept without interest is feeble", this interest is not representing the gain and loss in reality, but to put a single artist in the context of the Chinese modern art, enter the game of valuation system, every exhibition has its cultural opinion and intention.
About the exhibition
Dates: Dec 23, 2017 – Apr 18, 2018
Venue: Platform China
Courtesy of the artist and Platform China, for further information please visit www.platformchina.org.
Related posts: