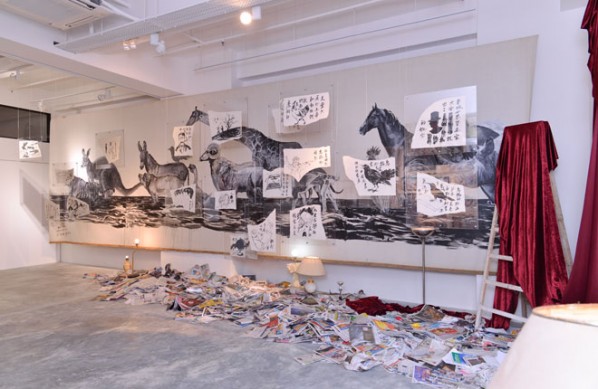 The project first started in 2010 in Beijing, and now Sun Xun's "Last Night" finds its completion on occasion of the artist's first solo show in Hong Kong.
Evolving around the idea and experience of the space as a 'stage' or simply an imitation of reality, the artist seeks to engage with what is around him.
Hence, his story board, or what we read in his drawings which combine messages of text and image, haunt the viewer in a dark, expressionistic atmosphere reflecting upon the human condition and this mad world. Sun Xun's reflective poems include…
"Culture is unnecessary in a ideal society."
"Why have we been defeated? Imperialism is nothing."
"Heaven belongs only to God and animals. We are all magicians."
"Animal world for the people."
Words to the wise, or wise words for the people? Sun Xun raises the curtain on a mesmerising stage in which we are bound to get lost.
Reality mingles with fiction, the passing of time and the machination of history are combined in a beautiful composition made out of simple forms. It is in this dusk zone that "Last Night" begins.
Sun Xun's ( b.1980 China) production ranges from video animations that combine hand drawings and traditional techniques with new media to inks, oil paintings and enthralling paper cut scenarios. Graduating from the China Academy of Fine Arts where he studied print-making, his interest in moving images brought him instead to establish an animation studio, named 'π'. Since 2007, Sun Xun had taken part to major film festivals worldwide, among which the 23rd International Berlin Short Film Festival, Germany, the 12th Holland Animation Film festival in Utrecht, The Netherlands in 2008 and the 67th Venice International Film Festival in Venice, Italy in 2010. He has been part of My China Now – a moving image project at the Hayward Gallery in London, UK, 2009, and he has extensively exhibited in solo projects, biennales and triennales both in China and abroad. Sun Xun has also participated to The Unexpected Guest, Liverpool Biennale 2012 and Death and Life of Fiction, Taipei Biennale 2012.
About the exhibition
Duration: December 8, 2012–February 24, 2013
Location: Platform China (Hong Kong)
Courtesy of the artist and Platform China, for further information please visit www.platformchina.org.
Related posts: