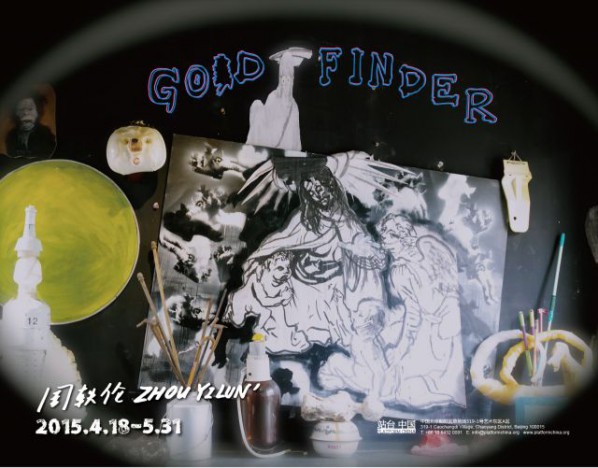 Platform China (Beijing) will present artist Zhou Yilun's solo exhibition "GO◼DFINDER" on 18th April. The exhibition theme simply translated in Chinglish literally as "gold seeker and god seeker". The exhibition has four parts: "ears and English are important for drawing"; "useless things will soon become the trend"; "unscrupulous store"; "warehouse" …several groups of words bring you unlimited reverie , Welcome to the site!
Artist Statement:
[English]
English will be read and understood as with painting by everyone soon, then no one may understand painting, and it has no need to be read. Many people who major in drawing don't get good grade in English, they are not on purposeto, only because they love drawing more. Those who are good on English are going to be artists already; the best art works are all named in English. Said to myself many times you have to learn English, that could make you a good artist, but still prefer to drawing, time for learn English are all been used for drawing.
[Religion]
Due to the family condition, I'd gone to the temple and burnt incense very often during childhood time. Someday I had to worship it for it shows the obedient attitude of me. Also I thought this process is interesting and feel happy to be submissive to participate. Religion is really powerful.
After that I'd went to different regions, I' liked to see different religious places, whose do not have to burn incense, but can also make a wish. My wish is to have successful exhibitions, my works will be sold out. Which religion is worth it? Or do not believe in anyone, or believe in all of them? In conclusion I do not have enough in-depth understanding, my heart is not completely purified, I think I'll find the religion I believe in, just like I have found art in the same way. I
[Mistakes]
There is a great philosopher said mistakes is the key to success,
There is a great Scientists said mistakesis the step of human's development.
A great artist also has said: err is art.
They all fart.
About the exhibition
Duration: 2015.04.18 – 2015-05-31
Venue: Platform China Contemporary Art Institute (Beijing)
Courtesy of the artist and Platform China Contemporary Art Institute, for further information please visit www.platformchina.org.
Related posts: