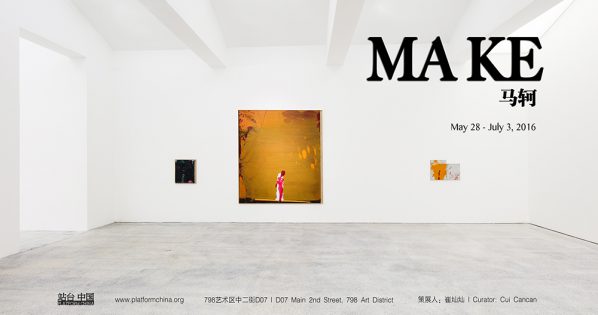 Platform China Contemporary Art Institute is honoured to present "Ma Ke", the eponymous solo exhibition of the artist, curated by Cui Cancan. It is scheduled to last until July 3rd.
This time, a movie-like temporal and spatial personality in narratives is presented to disrupt the usual displaying of Ma Ke's works. The room showcases over 30 works created between 2001 and 2016, old and new, and structures on the relationship between different facets and conceptual frames, with Bacchus, Realm and Spider acting as the central thread while Ceremony and Evidence weaving through as the turning points in the story. Every art piece, independent of each other and colluding in an obscure order, has its distinct layout and serves to reveal a one-pointed spirit with thematic repetitions. As protagonist in this "movie," Ma Ke has been integrated into his works assuming a number of forms, providing representations of the artist's self-awakening.
"He has guided all of the illusions, illusions of the roles he could possibly take on, the hero on horseback in God of Wine, the distant traveler in Other Shore, the plump spider, the orbs within the structure. A series of twists and turns, they are all linked from beginning to end…The individual's true duty is to seek the self and transcend the self. Whether his other shore is painter or lunatic, oracle or criminal, it does not matter. He has always dedicated all of his heart and mind, never ceasing. Things have always been like this from the beginning." By Cui Cancan
About the artist

Ma Ke was born in Shandong in 1970, BA, Gradated in Tianjin Academy of Fine Arts, Painting Department in 1994; MFA , Gradated in Central Academy of Fine Arts, Oil Painting Department in 2005. Now he lives and works in Beijing. His main solo exhibitions contains: "Indiom – Ma Ke", Marc Selwyn Fine Art, L.A, USA (2014); "Evidence" by Ma Ke, Platform China Contemporary Art Institue, HK, China(2013); "Life Most Intense", Platform China Contemporary Art Institue, Beijing, China(2012); "Made by Ma Ke – Work of Ma Ke", Shanghai Art Museum , Shanghai, China(2006) etc.
About the curator

Cui Cancan was the winner of the CCAA (Chinese Contemporary Art Award) Critics' Award, Critics' Award in Chinese contemporary art by YISHU (Journal of Contemporary Chinese Art), the annual award by L'OFFICIEL Art and so on. He was also appointed special observer for the 13th Kassel Documenta. As a curator, Cui contributed to the success of major exhibitions including Heiqiao Night Away (2013), FUCK OFF II (2013), Unlived by What is Seen (2014), Ai Weiwei Solo Exhibition (2015) etc.
About the exhibition
Date: 2016.05.28 – 2016/07/03
Venue: Platform China Contemporary Art Institute (Beijing)
Courtesy of the artist and Platform China Contemporary Art Institute, for further information please visit www.platformchina.org.
Related posts: