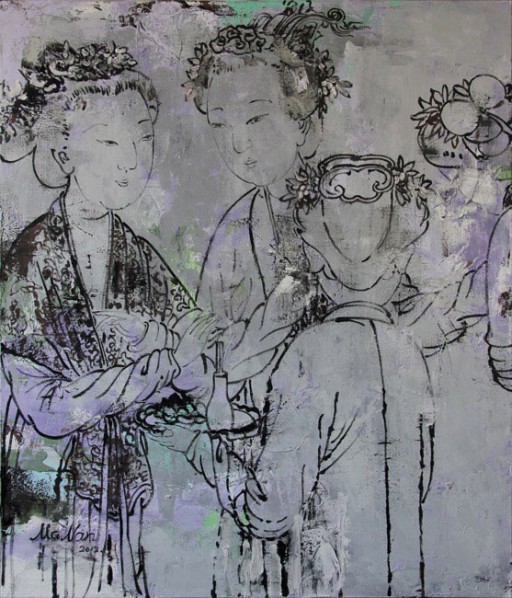 Ma Nan is a dynamic and distinctive young artist trained in the ancient techniques of calligraphy and seal cutting. Using her technical skills to reach beyond the traditional Chinese arts through the integration of modern western elements, she has developed her own original style of culturally informed contemporary art.
Her three-dimensional interpretation of traditional calligraphy creates multilayered compositions incorporating elements from a wide range of writing styles and eras. Oversized hand cut seals give sculptural form to characters and concepts, while her paper collages layer fragments of meaning, abstract symbols and ancient characters, tracing the development of a culture through history.
In these latest works, Man Nan develops her oeuvre by combining China's traditional calligraphic art forms with modern oil painting techniques. She creates hauntingly beautiful portraits on multilayered canvases, in which the subject and the background merge and interact through the combinations of thickly textured oil and elegant line. Her sitters are reminiscent of graceful dynastic princesses, formed of hybrid elements from historic sources in a style unique to the artist.
– Elisabeth de Brabant
ARTIST'S STATEMENT
I always try to explain myself through my art works by Chinese ancient literary atmosphere, and the long five thousand years of history. A variety of Chinese elements are used in my works bases on ancient Chinese and simple artistic elements, such as ink, paper, stone, traditional calligraphy and seal carving, ancient beauties, etc., at the same time to turn these natural materials into the dialogue, high class Chinese ancient atmosphere and simple philosophy are reflected in my art works, which highlighting the status of my pursuit. Combining what I have learnt and what I know about art, I always use great sensitivity, a peaceful mind and keen eye to observe and recreate the ancient Chinese arts – Poetry, Calligraphy, Painting and Seal Cutting. Each stroke, each line from my work is a natural concentric flow of calm and melodious notes. Every day I am creating, I indulge myself in enjoying this kind of wonderful fulfillment.
– Ma Nan
About the Exhibition
Date: 14 Jun – 31 Jul 2012(Open Tuesday to Friday 10a-7p, Weekends 1.30p-6.30p, Mondays by appointment)
Venue: Elisabeth de Brabant Art Center
Add: 299 Fuxing Xi Road (near Huashan Road), Shanghai 200031
Courtesy of the artist and Elisabeth de Brabant Art Center, for further information please visit elisabethdebrabant.com.
Related posts: