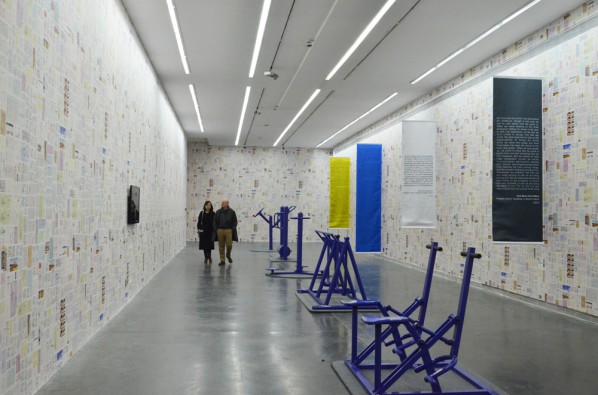 On the afternoon of November 21, 2014, UCCA launched the exhibition "Polit-Sheer-Form: Fitness for All", which is jointly planned by UCCA Director Philip Tinari and UCCA Assistant Curator Guo Xi, the show occupies the Lobby, Long Gallery, Nave, and Central Gallery.
Polit-Sheer-Form was founded in 2005 by artists Hong Hao, Xiao Yu, Song Dong, Liu Jianhua, and curator/critic Leng Lin. The group's multi-disciplinary projects address the idea of "we" in a "me" world, and their activities of talking, traveling, eating, reading, and playing together form the basis of their commentary on political, cultural, and spiritual life in twenty-first century China. "Polit-Sheer-Form: Fitness for All" is the largest survey by any Chinese art institution of the groundbreaking, five-member collective's nine-year career.
At 3:00 pm, the press conference and the forum of "Collective Identity in the Context of Contemporary Art" were held at the UCCA Auditorium. Before that, Deputy Director of UCCA You Yang initially talked about the UCCA Gala and Benefit Auction 2014 held the night before the opening (November 20), where a unique on-site project was designed by Polit-Sheer-Form to mirror the familiar pomp of official gatherings, 21 works attended the live auction which ultimately raised RMB 9 million.
The forum was presided over by Philip Tinari, and Hong Hao, Xiao Yu, Song Dong, Liu Jianhua, and Leng Lin participated in the discussion. When asked the reason why "Polit-Sheer-Form" was built, Song Dong said many things of "Polit-Sheer-Form" formed themselves, rather than a special design. "It was probably in 2005, when Leng Lin founded the Beijing Commune, in order to prepare an exhibition associated with collective creation, he brought together the artists." Then chose a photo with blue water ripples and plastered it all over the wall of the exhibition, and called it "It's Just a Wall". Song Dong said, it was a girder forthe wall of the Beijing Commune, so it was a notch of the blue, but they were interested in fortuitous accident, therefore the notch was kept and the mark of Polit-Sheer-Form was created. After the collaboration, Xiao Yu said, "We had found this 'we' that evokes a lot ofthings that 'I' can't get", so they maintain the creation in the form of "group". In fact, before the establishment of the group, the five artists had been known and influenced by the art circles. Song Dong had repeatedly stressed that "Our team is more similar to a team of volunteers, and we don't care how much one pays, nor is there a so-called leader, it refuses a leader and is decentralized." At the same time the collective creation of the group doesn't limit the development of the individual, as Leng Lin said, "It isn't promising that the collective restricts individual development."
It's an expansive yet concise exhibition comprising of more than ten works. "Polit-Sheer-Form: Fitness for All" alludes to a Chinese slogan encouraging physical exercise among citizens and is the starting point for their installation Fitness for All, which appropriates the publicly funded workout equipment found in city squares and residential compounds throughout China, treating it as sculpture for the betterment of museum visitors;. In their signature tongue-in-cheek style, politicized aesthetic forms from a bygone era are remodeled as in Mr. Zheng, a "leader portrait" formed by combining their individual likenesses into a single figure wearing their blue insignia; Guests are greeted in the lobby by Polit-Sheer-Flowerbed, an installation reminiscent of floral topiaries popular during China's National Holiday season. Other pieces in the show include a video installation of the performance Do the Same Good Deed in which they host a mass cleaning of city buses in Guangzhou. Manifestos from 2005, 2007, 2008, 2009 and 2014 lend a context to the group's paradoxical conception. Polit-Sheer-Form Chronology (2005-2014) records the group's activities through an astounding collection of hundreds of official invoices [fapiao] documenting their endeavors and encounters, scanned and printed as wallpaper.
It is worth mentioning that the audience could enjoy the premiere of the performance piece Whip It. A man dressed in a blue suit standson a tall blue cuboid, waving a shrilling whip in his hand to hit the white wall andleave blue traces. UCCA Director Philip Tinari noted that, "Polit-Sheer-Form's five members were born in the 1960s—a lost generation with memories, albeit only childhood memories, of High Socialism. As a result they have sought to reconstitute the visual and affect the socialist moment, distilling its political imperatives into pure (sheer) forms, devoid of content."
The exhibition continues to January 4, 2015.
Text and photo by Lin Jiabin/CAFA ART INFO
Translated by Chen Peihua and edited by Sue/CAFA ART INFO
Related posts: