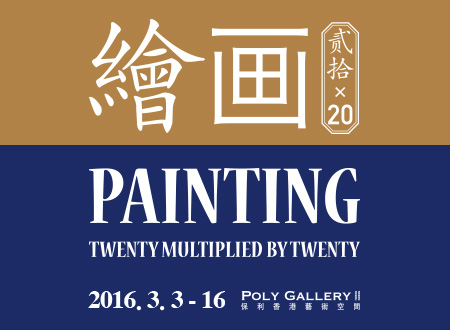 Painting is always a self-inspection through artists and the possibility of painting lies in painting itself; artists struggle for the vitality of painting through denying and resisting against painting. Painting could present itself with any ways and methods, and keep an immortal tenacity.
With the broken up of the One-World dream since 19th century, though the economic power of globalization brought about the new world-ism trend, yet people who are well aware of life and experience will discover: different civilization background and historical culture are still dividing peoples of this world into groups with different values, world views and tastes; the attempt to find a common standard is nonsense and will come to nothing; influence of culture and art come from creativity and the legality of creativity, while this legality is based on the balance of economy, politics and overall strength.
Sensible people have already been used of reasonable warning of relativist and they know the difference formed by individuals in special context; they understand the verifying and rich civilization resource as well as the image of the world. They could give an effective account of the contemporary different from painting tradition even without terms of Derrida, Foucault or other western thinkers. The most important is still artist and the painting practice that has creative understanding of the history and creativity of painting; it is precisely the painting practice that could provide new issues about painting. Yet for critics and art historians today, both oriental and western, the challenge they should meet constantly is to recognize and judge new painting practices.
This exhibition selects 20 Chinese contemporary artists and 20 artists who use Chinese traditional tools and materials in painting; the content of this exhibition "Painting: 20×20" is constituted by their latest artworks. Just as painting is the tool of thinking, this exhibition will provide a platform for audiences to re-think about the question of painting. Taking painting as a form of human civilization still full of possibilities, the curator wishes to carry out a discussion about painting in the globalization background through the artworks of these 40 artists who proposed questions about painting from different perspectives of thought.
"Painting: 20×20" is taking painting artworks originated from two different civilization backgrounds in one show as an investigative study. With the exhibitions and academic activities in different cities as well as the market influence, this exhibition is trying to promote the art circles and more people to pay attention to the changes and development of painting art form, thus to end the bias of material-centrism in contemporary art, meanwhile, to assist peoples to acquire new understanding in painting
About the exhibition
Opening Ceremony: 4:00pm 3 March 2016
Exhibition Period: 3 – 16 March 2016
Opening Hours: Monday to Saturday 10:00am – 6:00pm
Close on Sunday and Public Holiday
Venue: Poly Gallery Hong Kong (701-708 Suites, 7/F, One Pacific Place, 88 Queensway, Admiralty, Hong Kong)
Tel: +852 2303 9899
Organizer: Poly Gallery Hong Kong
Artists using oil paint and acrylics in painting:
Cai Lei, Chen Xi, Chen Yufan, Chen Yujun, Ge Yan, He Sen, Leng Guangmin, Li Dafang, Li Qing, Li Rui, Qin Qi, Tu Hongtao, Wang Yabin, Wu Wen, Xu Bacheng, Yin Chaoyang, Yang Xun, Zhang Tianjun, Zhang Xiaotao, Zhang Zhaoying
Artists using traditional material in painting:
Cao Xiaoyang, Chang Jin, Gao Qian, Hao Shiming, Jiang Ji'an, Li Jin, Lin Haizhong, Liu Qi, Liu Qinghe, Peng Jian, Qin Xiuping, Qiu Ting, Shen Qin, Wei Qingji, Wu Yi, Xu Guangju, Xu Lei, Yu Hui, Zeng Jianyong, Zhang Jian (Artists using traditional material in painting )
Courtesy of the artists and Poly Gallery Hong Kong, for further information please visit www.polyauction.com.hk.
Related posts: