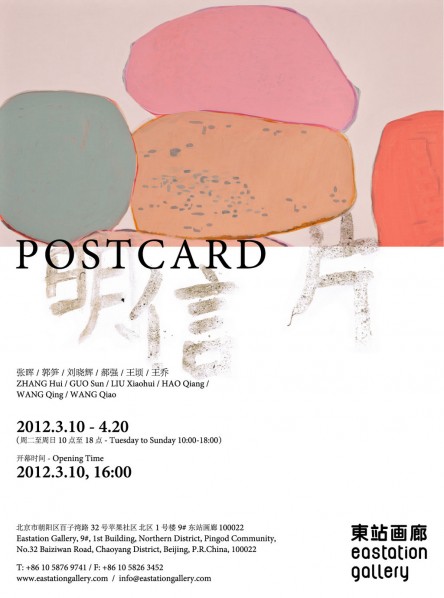 The first postcard in history was launched in 1865. It originated from a beautiful picture painted on thick paper by a German artist. Since then, postcards have become widely popular as a way of posting a card with a powerful image. Using postcards, people recorded various moods, thoughts, memories, and hopes, and then shared them with others. Postcards have reflected a wave of nostalgia, in which feelings for the past lingered on and on. It was due to the nostalgia of postcards that Eastation Gallery staged this exhibition and named it "Postcard".
Zhang Hui, who has lived in New York for many years, expresses his homesickness in his paintings, the recollection of the harmonious early spring of Beijing, and at the same time the illusion of the innocence of oriental women.
Guo Sun, uses a splash-ink painting style, portraying the nostalgic childlike delight and the festivity of the melting snow.
Liu Xiaohui, uses the style of a cartoon strip, recording an autobiographical private life. Two contradictory clues combine and form a kind of unique reading experience.
Hao Qiang, a man of few words, portrays ordinary things in our daily life. The quiet ordinariness produces a deep emotion and extends in an uninterrupted whisper.
Wang Qing, who is of Kaifeng ancestry, keeps portraying the scenes of his hometown. Although his paintings depict the flowing rivers and desolate roads of daily life, they are filled with bitterness and strong poetry.
Wang Qiao's field of vision never goes beyond her home. Ordinary things within her vision are turned into little poems with her feminine mood.
Opening Time: 2012.3.10 16:00
Venue: Eastation Gallery, 9#, 1st Building,
Northern District, Pingod Community,
No.32 Baiziwan Road, Chaoyang District,
Beijing, P.R.China, 100022
T: +86 10 5876 9741 F: +86 10 5826 3452
www.eastationgallery.com
info@eastationgallery.com
Related posts: