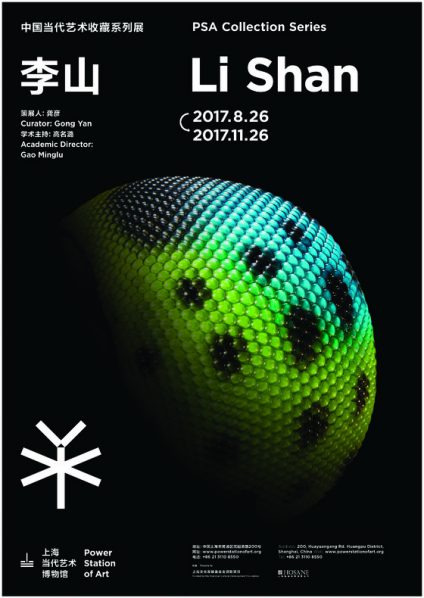 In 1993, Li Shan gave up his decades-long familiarity with painting, and turned his artistic thinking to topics that are related with bio-science. He claimed to be creating on a canvas once reserved only for the God, and created a new artistic discipline: BioArt. It all started with Li's long-time fascination with existence and life, explorations to the cipher code behind biological characters, and advocacy about equality and uniformity between different life forms and species.
From August 26 to November 26, 2017, the Power Station of Art will stage its PSA Collection Series – Li Shan, to comprehensively focus on Li Shan's BioArt-themed projects, which is a first in China. Among the pieces on display, two will involve living organisms, while the remaining are plans, sketches, drawings and documents about his BioArt projects.
The core thinking behind Li's works is about creating conditions for gene's random expressions, while gene modification has become the dominant control method for the conditions of creations. The artist is hoping to exceed the boundaries of art, and evoke a large-scale discussion on topics from bio-art to human destiny. Rather than providing a new approach for us to understand art, his new genre is a test for human thoughts and attitudes.
"During gene's transcription and translation process, removing its control mechanism to allow random expression might be a life's only opportunity to access freedom."For Li Shan, genetic mutation is an accidental event during the evolutional process. With such Frankenstein-styled curiosity, the artist, who thinks life has endless possibilities, became the first Chinese artist to explore the relations between gene, mutation and art. And that's why this kind of pioneering spirit led to praises from China's renowned art critic Gao Minglu: "Among the first modern artists, there are few like Li Shan who are still active and high-spirited for their creative conditions and capabilities."
About the artist
One of China's contemporary artists, Li Shan has also been known as the pioneer of BioArt. He was born in Lanxi of northeastern China's Hei Longjiang Province in 1942, and was admitted to Shanghai Theater Academy to study Fine Arts in 1964, after he dropped out of Hei Longjiang University a year ago. He now works and lives in Shanghai.
Since the late 1960s, Li has engaged in art experiments. His Rouge and Extension series were key works of the period, and became selected works at the "Chinese Modern Art Exhibition" (1989, Beijing), the 45th La Biennale di Venezia (1993), and the 22nd International Biennial of Sao Paulo, Brazil (1994). He was the first Chinese artist to take part in the La Biennale di Venezia, and played an important role in China's 85 New Wave Movement.
1993 marked an important turning point for Li's artistic career, when he devoted his artistic thinking to issues related to bio-science. Two years later, he started to prepare himself for bio-artworks by studying scientific knowledge, before he defined the new discipline as BioArt.
About the exhibition
Dates: 2017.08.26 – 11.26
Venue: Power Station of Art
Courtesy of the artist and Power Station of Art, for further information please visit www.powerstationofart.com.
Related posts: