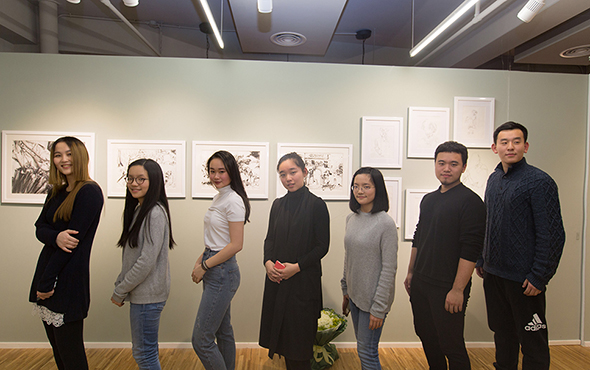 On January 17, 2017, a fresh and lively art exhibition was held at the Gauguin Gallery at Wangjing SOHO and it features new artworks by 10 artists from 4 countries, including, Edie Siyi Xu (U.S.A.), Angela Yu (Canada), Hu Bao, Hu Bei, Yin Yiyang, Manon Sun (France), Shen Cai, Mu Chuan, Wu Fan, Jin Xiaorao. Their works cover a variety of forms including oil paintings, prints, illustrations, ceramics, fashion design, installation, animation, 3D video and so on. All of the emerging artists that participated in the exhibition were born after 1990, most of them are still studying at colleges. They all share a similar identity, all of them are from families of distinguished artists, their parents are either artists or art workers, therefore they have been cultivated by art since they were very young. Themed "2117+", the exhibition implies a kind of exception and continuation, in the hope that this new force of art will become an important energy in the future art world, they will inherit the mantle of art and they will influence the next generation in the next century.
This is a new exhibition in 2017. The keywords such as the 90s, new art power will easily drive people into another vision. There was a "new generation of art" emerging in 1990s which had exerted a far-reaching impact on the development of Chinese contemporary art, under the specific context of cultural and social transformation, this artistic group have a distinct uniqueness as their growth has been intentionally broken from the previous generation on a mental level, they advocated freedom and ideals, their artistic creation has been transformed to their daily lives and they are concerned about the mental state of their own living space. It is interesting to note, that the new art generation were parents of this group of emerging artists born after 1990, perhaps the audience might find a historical contrast in the exhibition.
Those who were born after 1990 are a new generation with a completely unique background of development which is quite different from their parents who were born in the 1960s or those born after 1980. Internationally renowned artist Xu Bing, as a father mentioned at the opening ceremony that, this generation of artists have no concept of cultural differences between the East and the West and their creative techniques are also extremely free, without any barriers among categories of paintings, and their absorption in contemporary civilization is unbelievably abundant which the generation of artists he belongs to could not compare with. Those who were born after 1990 can be described as the first generation of "aborigines" of networks, meanwhile they have grown up in the environment that accesses global information that is completely shared with one another, which determined that their way of acceptance and dealing with information is completely different from others, which is naturally reflected in their art creations, the feature of being open, free and individual has become the label of their works.
These artists who participated in this exhibition have been growing up in an artistic environment and they have learned art from their childhood, therefore they are endowed with training in family traditions as well as professional cultivation in the rigorous system of art education. Most of them have been enrolled in internationally renowned art institutions such as the Central Academy of Fine Arts and Rhode Island School of Design. It seems that compared with others, they can easily get access to art. We are often opposed to that kind of indoctrination of art training and we believe art is slowly cultivated in the growing environment. From this perspective, the exhibition also provides another point of view in observing art growth. As for whether the artistic achievements made by their parents will become their benchmark or their pressure is unknown, artist Zhang Yanzi saw it from the perspective of a parent, she thought that her daughter has been "uninhibited" in her art creation, their generation have their own set of ideas and methods, they embark on art which has not been deliberately arranged or guided, it's a result of natural development. The exhibition was a platform for communication, young artists could communicate with their peers, as they would learn from each other and indicate their ideas for future creations. Meanwhile, these young artists are from different art schools, they would also provide a sample of reference for our comparative search in the models of domestic and international art education.
The exhibition will remain on view till March 16.
Text by Zhang Wenzhi, translated and edited by Sue/CAFA ART INFO
Photo by Hu Sichen/CAFA ART INFO
Related posts: