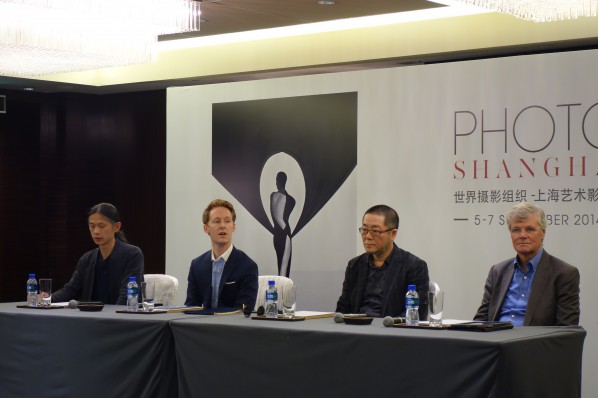 On May 12, the Beijing press conference of Photo Shanghai 2014 was held at the Beijing Four Seasons Hotel. Wang Huangsheng, Director of CAFA Art Museum, Director of the Fair, Alexander Montague – Sparey, Chairman Sandy Angus, and artist Rong Rong attended the conference, and all expressed their hope for the photography exhibition.
Photo Shanghai is the first international and largest art fair dedicated to photography in China, held from 5-7 September 2014 at the Shanghai Exhibition Centre it is organized by the World Photography Organization. Photo Shanghai brings together more than 70 galleries to showcase the best in vintage and contemporary masterworks from around the world with an added commitment to highlighting Asian Photography and galleries.
Alexander Montague – Sparey said Photo Shanghai focused on photography and was expected to be the top photography exhibition in the Asia-Pacific region, annually held in Shanghai. Sandy Angus reiterated WPO's mission which was to promote the art of photography.
Wang Huangsheng said Chinese museums had never build an effective mechanism of study in photography, while the exhibition provided a large amount of research materials.
Rong Rong said that in China, few people recognized his photography and there was a shortage of relevant promotional agencies so he founded the Three Shadows. It was also a place to showcase the works by young photographers.
The Inaugural edition of China's first art fair is dedicated to photography, the first of this calibre in the Asia-Pacific region. Photo Shanghai is supported and advised by a board of international industry professionals including: Wang Huangsheng, Director, CAFA Art Museum, Beijing; Christopher Phillips, Curator, ICP, New York; Francis Hodgson, Financial Times Photo Critic and co-founder of the Prix Pictet, London; Lise Li, Founder and Owner, Vanguard Gallery, Shanghai; Philip Dodd, Director, Made in China; Jeffrey Boloten, Co-Founder & Managing Director of ArtInsight Ltd, UK; Bill Hunt, Photography Consultant & Collector, New York; Zelda Cheatle, Portfolio Manager & Curator, London; Rong Rong, Photographer, Founder & Director, Three Shadows Photography Art Center, Beijing; Wang Zhonglei, President, Huayi Brothers Media Corporation, Beijing; Lisa Botos, Curator and Art Consultant, Singapore and Wang Xiye, Photography Collector, Shanghai.
The World Photography Organisation and Montgomery recently announced the inaugural edition of Photo Shanghai, the first international art fair dedicated to photography in China. The Fair will run from 5-7 September at the landmark Shanghai Exhibition Centre, and aims to establish the most professional and international platform for fine art photography in the Asia-Pacific region.
Noted photographers including: Henri Cartier-Bresson, Patrick Demarchelier, Elliott Erwitt, Melvin Sokolsky, Nick Brandt, René Burri, Josef SUDEK, Boomoon, Albert Watson, Peter Lindbergh, Ansel Adams, Robert Polidori, Herb Ritts, Sebastião Salgado, Michael Kenna, Karen Knorr, Martin Parr, Luo Dan, Thierry Cohen, Li Lang, Hiroshi Sugimoto, Daido Moriyama, Nobuyoshi Araki, Hong Lei, Huang Xiaoliang, SHAN Feiming, Shen Wei, Liu Tao.
It focuses on promoting contemporary Asian photography. Planned by Wang Huangsheng, Director of CAFA Art Museum, the "Beijing Photo Biennale" will also be on display at the "Photo Shanghai".
The Fair is in direct response to the increasing demand by audiences from across Asia-Pacific, and beyond, to discover accessible and collectable photography. Galleries from across the world now have a unique platform in China and the opportunity to establish and extend their network of buyers in the Asia-Pacific region.
As Jeffrey Boloten, Co-Founder & Managing Director of ArtInsight Ltd comments: "With the intense infrastructural developments continuing apace; a major governmental cultural industry focus and museum building drive, Christie's and Sotheby's as new entrants to the auction market, and the Basel Art Fair now a formidable presence in Hong Kong, the Chinese art market is heading in a positive direction for the future."
The Director of the Fair, Alexander Montague-Sparey, who has worked with some of the biggest collectors, dealers and artists in the field and created many notable new auction markets for contemporary photographs, comments: "Photography, art fairs and China are three of the most dynamic opportunities in the art world today. It is therefore an honour to direct the first edition of Photo Shanghai. I am thrilled to bring 19th Century and 20th Century photography alongside emerging and established contemporary photography of the highest calibre into the fastest-growing economic region in the world."
"The need for such a fair is reflected in the enthusiasm and commitment we have received from some of the leading international galleries in the field, such as Flowers Gallery, CAMERA WORK, Danziger Gallery, Fahey/Klein, M97 and Vanguard Gallery. This highly curated and elegant fair is set to create a new benchmark for photography in the Asia Pacific region and adds an important date to the art world calendar."
Commenting on their involvement, David Fahey – Owner of the Fahey/Klein Gallery, Los Angeles – says: "We have been watching with interest the many talented photographers coming out of China and the growth in interest of the Chinese community in collecting photography. Shanghai is clearly one of the most vibrant and high energy cities in the world and the perfect locale to host this new fair."
To this, Ute Hartjen, Director, Camera Work, Berlin, adds: "Gallery CAMERA WORK is proud to be part of Photo Shanghai 2014 and takes the view that the gallery and its aim to combine both classic and contemporary photography perfectly reflects the city of Shanghai with its fascinating synergy of traditional and modern elements."
Sandy Angus, co-founder of ART HK (now Art Basel Hong Kong) and Chairman of Montgomery and the World Photography Organisation comments: "The vast Asian art market has seen considerable growth over the past decade and in that time photography has been an ever-increasing part within the contemporary art space. China has the advantage of a treasure trove of ancient photographs as well as an appreciation of the medium of photography and its place in the art world. Photo Shanghai has the opportunity to draw on this interest amongst both Chinese and Asia-Pacific collectors."
A curated talks and events programme will run alongside the fair for its duration. These talks will be led by world renowned experts in their field. These will include curators such as Christopher Philipps, dealers and international photographers.
The Wall Street Journal is the principal international media partner of Photo Shanghai, while Modern Media is the Chinese media partner for the fair.
For those wishing to showcase at Photo Shanghai, the application deadline is: 30 MAY 2014.
For further press information about Photo Shanghai please contact:
Kiri Gillespie, PR Manager, kiri@worldphoto.org / + 44 (0) 20 7886 3049
About Alexander Montague-Sparey, Fair Director
Alexander Montague-Sparey is a photography curator, expert and advisor. As the youngest Director in the history of Christie's, his tenure saw the London Photographs department reach lead status under his direction in May 2013. In his time with the company, he has worked with the biggest dealers and collectors in the field and achieved several world auction records. In September 2013, he curated the auction 'Kate Moss: From the Collection of Gert Elfering', and reached great acclaim.
Prior to working at Christie's, Alexander was the curator of the selling exhibitions programme at Phillips, where he oversaw the exhibitions Guy Bourdin 'Unseen', Mario Testino 'Obsessed by You' and the contemporary sculpture group show 'The Artist's Playground' at Sudeley Castle, among others.
Alexander is a judge for the Prix Pictet Awards for Photography and a guest lecturer at the Courtauld Institute. A native French speaker born in Geneva, he holds a Master's in the History of Art from the University of Oxford.
About World Photography Organisation
WPO supports professional, amateur and student photography, lending a global platform to the photographic industry to communicate, converge and showcase current trends in Photojournalism, Fine Art and Commercial photography. Delivering various initiatives and programmes across this global community, these programmes involve the photographer in commercial, cultural and educational activities within the many industry sectors, whilst also creating cultural activities for the public to participate in. Currently included within the WPO portfolio are: Photo Shanghai; the Sony World Photography Awards; the World Photography Student Focus Competition and Youth on Assignment.
About Montgomery
Montgomery is at the forefront of trade and consumer shows in Europe, Asia, Africa and the Middle East, was the co-founder of ART HK, now Art Basel Hong Kong, and manages other fairs including Art14 (London), ArtInternational (Istanbul) and India Art Fair (Delhi).
Up to 70 galleries will exhibit at the fair including:
A.Galerie, Paris, France
Aike Dellarco, Shanghai
A Thousand Plateaus Art Space, Chengdu
AO Vertical Art Space, Hong
Amana Salto, Tokyo, Japan
ATLAS Gallery, London, UK
Breese Little Gallery, London, UK
C14, Shanghai
C.A.M. GALLERY, Istanbul, Turkey
Camera Work, Berlin, Germany
Czech Center of Photography, Prague, Czech Republic
DANZIGER GALLERY, New York, U.S.
Fahey / Klein Gallery, Los Angeles, U.S.
FLOWERS, London, UK
In the Gallery, Copenhagen, Denmark
M97 Gallery, Shanghai
MABS Society, Shanghai
Magda Danyz, Shanghai
MAGNUM, Paris, France
Moproo, Shanghai
OFOTO, Shanghai
Paolo Morello Studio, Palermo, U.S.
Peter Fetterman Gallery, Santa Monica, U.S.
Tasveer, Bangalore, India
Three Shadows, Beijing
Timeless Gallery, Beijing
TORCH Gallery, Amsterdam, Netherlands
Tristan Hoare Gallery, London, UK
Vanguard Gallery, Shanghai
About the exhibition
Location: Shanghai Exhibition Centre
1000 Yan'an Lu, Shanghai
Date: 5-7 September, 2014
Thursday 4 September 4pm-6pm Collectors' Private View
6pm-9pm VIP Opening
Friday 5 September 11am-6pm Open to the Public
Saturday 6 September 11am-6pm Open to the Public
Sunday 7 September 11am-5pm Open to the Public
Ticket Contacts: Phone: +86 21 5265 7537
Email: photoshanghai@worldphoto.org
Courtesy of Photo Shanghai 2014.
Related posts: