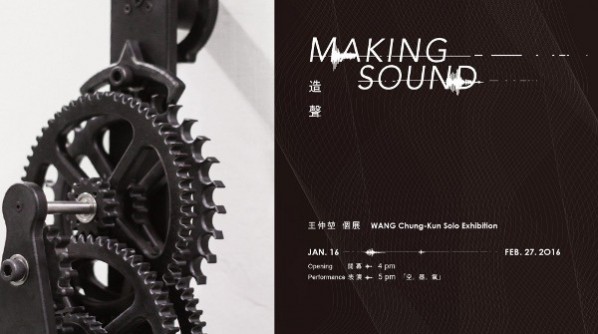 The artist has embarked on a career in mechanical sound instruments since 2006, serving as a valuable new acquisition in the field of new media art in Taiwan. The artist not only specializes in kinetic sculpture and sound art, but also engages in other fields such as dance, theater, and performing arts. This solo exhibition features the artist's recent sound-machine series titled sound.of.suitcase and a brand new large-scale interactive sound installation titled Sound Wall.
Sound, by contrast to music, exists ubiquitously. Our quotidian existence is rife with all kinds of sound that have metamorphosed into "quasi-instrument" sculptures and installations through Wang's great ingenuity. The riotous profusion of sound machines the artist created appear in different forms. The seemingly sophisticated devices surprisingly perform gentle rhythmic movement and display unique aesthetic quality. Wang's artworks are usually designed to produce sound either by the viewers' engagement or by the auto-run programs. They offer us unique experiences of sound in a mesmerizing manner. Besides, these sound artworks can be transformed into musical instruments for live performances through different digital changeover procedures.
The sound.of.suitcase series has been developed since 2011. It consists of a number of sound machines such as Sound.of.Suitcase—Noise Box, sound.of.suitcase—three little wood fishes, and Single Bubble that take on diverse forms. This series was inspired by portable sound devices and based on box-type instruments. Employing his ingenious techniques and shrewd aesthetic judgement, the artist repurposed traditional instruments such as wood fishes, pipe organs, and gramophones into aesthetically pleasing sound sculptures or installations. The infrared sensors attached to the wooden boxes capture the viewers' motion, thereby putting the in-box instruments into operation and producing all sorts of noise and sound. The viewers may find great delight in their physical interaction with these sound artworks. In 2014, the sound.of.suitcase series was premièred at Art Basel Hong Kong where it attracted considerable attention and sparked extensive discussion, making itself a focal point of the show. These artworks are collected by art connoisseurs and museums in Sweden, Thailand, and Taiwan.
In addition to trace the trajectory of his previous artistic creation through the sound.of.suitcase series, the newly developed large-scale interactive installation Sound Wall is another merit of this solo exhibition. The latter unfolds the process of sound production by virtue of the devices installed on the wall. It shows the circuit of sound-flow in a way that electronic instruments are connected, and ergo affords the viewers a glimpse of the mysterious procedure of sound production. The creation of sound is as enjoyable and tasteful as every part of our lives' rich tapestry.
Making Sound – WANG Chung-Kun Solo Exhibition will remain on view till end on 27 February 2016. The artist will deliver a live sound performance titled Emptiness – Instrument – Air during the opening reception. We cordially invite art buffs to this elaborately organized exhibition, where you can admire the artist's chef d'oeuvre constituted by his remarkable creativity.
About the Artist
WANG Chung-Kun was born in Kaohsiung, TAIWAN in 1982 and now lives and works in Taipei.
His work across the area of sound, sculpture, video, kinetic art and sound installation. Wang Chung-Kun is one of the rising stars in Media art in Taiwan. He has created various forms of machinery that have consistently maintained an intriguing purity and peculiar sense of beauty. As the viewers approach, these machines operate on their own untiringly. Sound-making, switching on and off, exhaling, spinning or twinkling, they can simply do more than a single action. Rather, they have their own rhythm variation, as if they have a life of their own.
Recent solo exhibitions: "Series of another soundscape, Neu Gallery, Taipei" (2013); "[ + – * / ] , DAC (digital art center) , Taipei" (2010). Recent group exhibitions: "inToAsia: Time-Based Art Festival 2013, Stephan Stoyanov Gallery, New York, USA" (2013); "TRANSJOURNEY – Future Media Festival, Kundo Meseum, Taipei" (2012); "Kaohsiung Award, Kaohsiung Museum of Fine Arts, Kaohsiung, Taiwan"(2011). Award:Taipei Art Award, Honorable Mentions(2013); Kaohsiung Art Award, Observer's award(2011).
Courtesy of the artist and Project Fulfill Art Space, for further information please visit www.pfarts.com.
Related posts: