When Swift Horses meet their Bo Le—Chinese and Foreign Collectors visit studios of the artists who has participated in the First "CAFAM • Future" Exhibition
Japanese working class collector Daisuke Miyatsu has shared with Chinese collectors in his lecture that one of his esoteric traits in collecting art is to meet "face to face with artists," in this way he would have a better understanding of their art work. Combining with the First "CAFAM • Future" Exhibition, the Department of Public Education of CAFA Art Museum has launched visit programs to the studios of the artists, hoping this would promote the encounters between "Bo Le" and "Swift Horses" and build an in-depth understanding and communicating platform for collectors and young artists, which also would uncover the mystery of the artists for art lovers.
September 2, Daisuke Miyatsu together with 20 collectors and art lovers who have enthusiastically registered online went to Heishan and Caochangdi to visit the studios of four young artists including Sun Xun, Jiang Bo, Ye Nan and Hao Liang whose works have been displayed in the First "CAFAM • Future" Exhibition.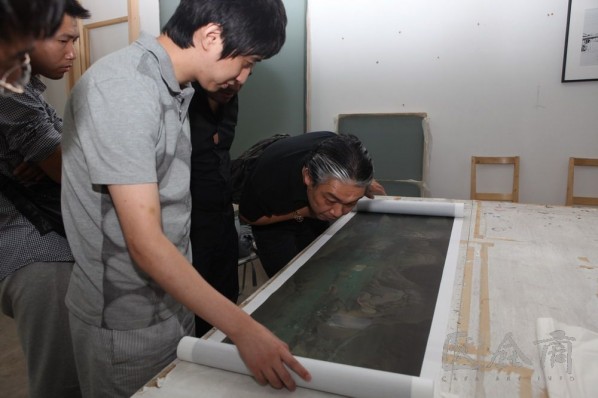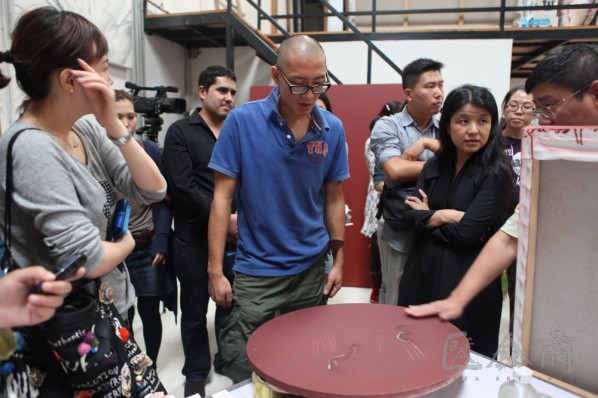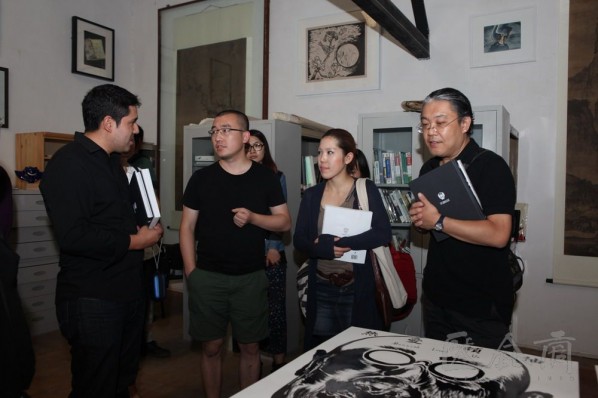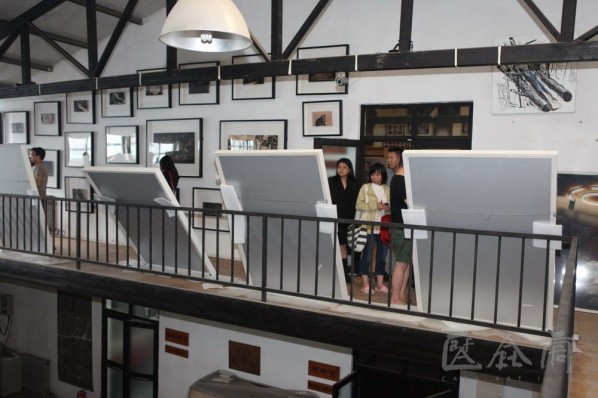 Daisuke Miyatsu VS Li Xianting: we are all concerned about the power released when art just sprouts.
Daisuke Miyatsu who stands for the collectors and Li Xianting, an academic representative of art, respectively symbolize the two opposing extremes of the value of the art market and artistic value. What's the relationship between the art market and art? What kind of collectors does China need? Does the art market in China reach fertile ground? These questions tightly surround both the art market and academic studies and are issues that concern both collectors and art lovers.
The Department of Public Education of CAFA Art Museum conspires to bring about a face-to-face dialogue between collectors and art critics on September 2, 2012. It was supposed to have an explosive opening but it turned out to be a resonant talk.
They identified with each other from the criteria of art as Li Xianting asked Daisuke Miyatsu from the very beginning, so Daisuke Miyatsu replied "in addition, they are affordable, I just like them."This has become a standard answer to the question he has been most frequently asked during his visit to China. Li Xianting has expressed the same idea in a different formulation, "Once someone asked me how I can judge art. I replied that it has to impress me. When art has excited and touched you it is true. The reason a piece of work has aroused controversial discussions does not lie in the work itself but in the concept of the audience.
Then Daisuke Miyatsu asked Li Xianting about the status quo of Chinese contemporary art, the female curator Liao Wen who attended the dialogue believes Chinese contemporary art is still far away from reaching prosperity, "Many can name the prices of Zhang Xiaogang and Fang Lijun's works but they cannot tell anything about their contribution and value to contemporary art, which is so pathetic. Art would not become prosperous because of the prices in the art market."
When talking about the market, Li Xianting indicated that "I was always asked about my opinions about Zhang Xiaogang and Fang Lijun's works. I shall say all of the artists who have made their fame are not included in my vision since I care about the vitality when art grows. Once artists became famous they will paint like a factory production and send their works to the market and production teams, but the initial vividness in art has gone forever."
Young artists have participated in the discussions on the status quo of contemporary art, they thought that there were layered rules in the game of Chinese contemporary art scene. Museums, galleries and capital market which have formulated a cycle which means young artists needed to pass through trials to gain recognition while they could have more opportunities to express themselves before the rules are been set up.
He Bin, the president of HIHEY believed that the internet could provide a new equal arena and opportunities for direct contact with art collectors, "when an artist displays his work through the internet and on the other side collectors they find it according to their interest, thus it can be well exhibited through the flattened and de-authorized structure on the internet.
Fan Min'er from the Department of Public Education at the CAFA Art Museum talked about the superiority of CAFAM in encouraging young artists to adhere to their artistic pursuit, "the non-profit art museum has also assumed this function. Although there are so many exhibitions related to 'future' while promoting the work of young artists, art works of traditional form in have accounted for 80% and installation, video, and new media works have been marginalized, which are supposed to be one the major characteristics of forms of future art. Comparatively speaking, the First "CAFAM • Future" Exhibition has attached an equal importance to installations and traditional art works and they each share the ratio of 50 percent. Actually, it is an endeavor to protect and encourage the comparatively unpopular works but holding artistic value."
Daisuke Miyatsu responded to Fang's words that installations sold better in Japan "since collectors may have their own preference or interest in various fields such as paintings and installations but many believe that sculptures and installations would cost more in transportion and storage for collectors, which in fact is wrong. For example, installations can be dismantled and sell well in Japan since they can be easily transported. Thus, the category of the art works has nothing to do with my priority for a collection."
Ren Rui who is in charge of the Department of Public Education at CAFAM summarized this meaningful activity which CAFAM has actively promoted, "in China, the collection of contemporary art has always been concerned and involved with people who have considerable assets and it seems it has no relation with working class and common people. The collecting awareness of local people stays in traditional calligraphy, antiques and folk art, etc. Along with the development of socio-economic, cultural diversity, 'new middle class" such as white-collar workers, golden collar workers have emerged from the working class. They have a certain economic strength and responsive appreciation of contemporary arts and culture while they are open to new concepts and nova things. Additionally, more and more public and private art galleries have sprung up with more multicultural exhibitions. Art has formulated a unique channel to be shared across geography, culture, customs and language so that more and more people are concerned with the arts, participated in art activities and co-constructed a new form of art. Integrating with the First "CAFAM • Future" Exhibition, CAFAM has been dedicated to providing a platform for young artists and collectors and promotes the real fusion of art and collections, which will better give an impetus to the circulation and growth of contemporary art."
Courtesy CAFA ART INFO and CAFA Art Museum.
Related posts: