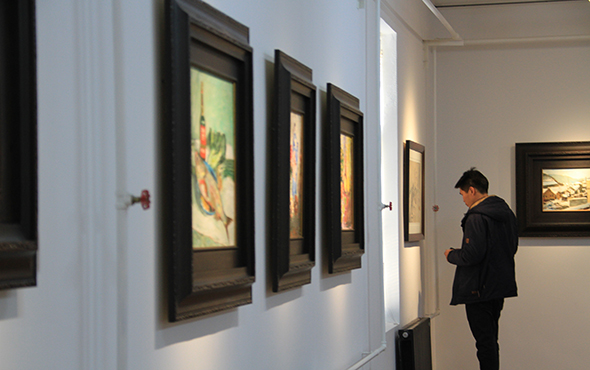 "The poet is a hidden neighbor of the madman, while the madman breaks into the poet's garden."
– Yu Guangzhong
On the afternoon of 18 November 2017, "A Grifted Painter – Sha Qi Art Exhibition", co-sponsored by Beijing Council International Auction Co., Ltd., and Imatrendge Space, was unveiled at the Hall of Modern Art of the Imatrendge Space. The exhibition was curated by Li Dajun and Jiang Mingyang, to feature a total of 50 works by Sha Qi, also named Sagi, including the precious works created when he studied overseas in Belgium and the paintings finished after he returned to China, as well as a sketch painting clip used during his studying overseas, in addition, Sha Qi's academic literature has also been researched and exhibited.
Because of his stubborn confrontation with mental illness and tireless adherence to art, Sha Qi's life was given a legendary color. Sha Qi was born in Yin County, Zhejiang Province in 1914, and learned from Xu Beihong in 1934. He was recommended by Xu Beihong to study in the Royal Academy of Fine Arts in Belgium in 1936, and learned from A. Bastien. Because he had studied fine arts at the Shanghai School of Art, Hangzhou School of Art and the Department of Art at the Central University for many years before he went to Belgium, Sha completed his studies in just two and a half years and received a hard-won "Gold Prize of Fine Arts". During the study in Europe for 10 years, Sha Qi has been extremely diligent and dedicated to modern art which was popular at that time. He also participated in the group exhibition involving first rate European painters such as Picasso and he was renowned in European painting circles.
When he rose to fame with a painting career, Sha Qi hurried back to China in 1946, forced by the recurrence of a mental illness. He regarded the solo exhibition in 1982 as the boundary, the artistic creation of Sha Qi which started from his return to China in 1946 to his death in 2005 and it was divided into two stages.
The first stage is almost regarded as a blank period of Sha Qi's artistic creation. Sha Qi was born in a relatively wealthy literati family, and his father had an high expectation of his return home after getting fame or money. Sha Qi also once wrote in a poem the following "When I returned from Belgium, I was appointed as the governor of Zhejiang province", which reveals his infinite ideal and aspiration for the future in his heart. But Sha Qi, who returned home after being mentally ill, had to face the fact that his father passed away, his wife joined the revolution and then remarried, the civil war started again, as well as the exhibition failed to be displayed, so that his spirit was more upset. Sha Qi resided in the village in seclusion for a long time, Because of the huge pain and mental devastation, and he was almost forgotten by people, which led people to misunderstand the "blankness" of this stage of creation.
In the memories of Sha Qi's son Sha Tianxing, Sha Qi rarely dropped his brush during this period. He still adhered to create works through the pain, including the exhibited ink paintings created in the newspapers of Wen Hui Bao. In these newspapers of "red, bright, revolutionary" contents, Sha Qi depicted the pure art including tigers, leopards, eagles, and women's bodies, as well as the self-styled title signatures of "Provincial Governor" and "Governor". They are as simple as stick drawing, but filled with unspeakable emotions and aspirations of this talented painter: Sha Qi was also treated as a "madman" in the tumultuous decades of Chinese history. Under such circumstances, Sha Qi considered the pursuit of art as his sole exit, tenaciously accepting the fate of the challenge.
Until 1982–1983 when Sha Menghai and Wu Zuoren held a solo exhibition for him, and the "Sha Qi Art Exhibition" was successively held in Hangzhou, Shanghai, Beijing, so that Sha Qi returned to the field of art. It was also the turning point of the artist after he returned to China. After the exhibition, Sha Qi's creative environment and mental state have improved. His artistic creation has entered a second phase, and the artist's artistic career ushered as a late success.
The exhibition presents more than 10 oil paintings created in this period. In the works, his brushworks tend to be soothing and gentle rather than performing the personalized publicity, the intense color was replaced by a sense of depth and tranquility, but they are still filled with intense feelings. As the curator Jiang Mingyang said, he completely transformed his creation into an emotional expression of his own personal nature. He fully demonstrated the illusionary world that he had gone through, which was hidden in his mind.
"The poet is an hidden neighbor of the madman, while the madman breaks into the poet's garden." The gifted people in the history of literarature have always bequeathed us with their madness. Perhaps the "madness" is close to the genius, perhaps Sha Qi, was really as concentrated as a "madman" focusing on the inner world, with a long-term focus on painting, pouring all his life on the canvas, building his art garden so as to eventually find his pure soul within the purity of art.
Text and photo by Zhong Yuwei/CAFA ART INFO (Some photos courtesy of the organizer)
Translated by Chen Peihua and edited by Sue/CAFA ART INFO
About the Exhibition
Title: "A Grifted Painter – Sha Qi Art Exhibition"
Hosts: Beijing Council International Auction Co., Ltd., Imatrendge Space
Curators: Li Dajun, Jiang Mingyang
Duration: November 18 – December 5, 2017
Venue: Hall of Modern Art of the Imatrendge Space, E1 Jili International Art District, Gaobeidian, Chaoyang District, Beijing
Related posts: